How to Check a Company's Reputation Online
Published: November 23, 2022 | Last updated: November 23, 2022
A lot of things can make you choose a company, and make a great decision, or regret the choice every single moment. So, how do you know if a company is good for you? Here are some things to look for and take into account, whether your research is for a job opportunity, investment, or just knowing if you are buying from the best business possible.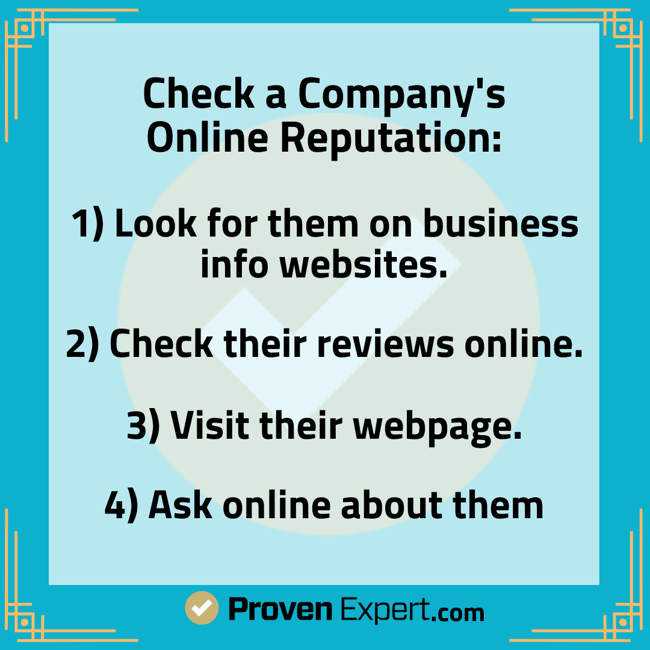 Tip 1: Googling Techniques to Find Out More
If you intend to buy something that is quite costly, and you do not know much of the company , this is relevant. Type the company name into your browser and see what comes up. Due to so many similar business names existing, adding the town or city the business operates in can be helpful. For official records, adding the full address of the business location is also important.
Before you hit "Enter" look at the suggestions in the automatic drop down menu your search engine provides. That could help you find more the information about a business, like this example for Grout Medic in Denver, Colorado:

You could also type the word "complaint" or "review" after the company name and see what shows up.
Be sure you scroll down and click on page 2 and page 3 in the search results, not just the first page.
Tip 2: Explore Review Websites & Platforms
These could be a simple look at their reviews on industry relevant websites like Yelp for restaurants or TripAdvisor for hotels. A full list of resources can be found below in this blog post.
You can also check in your local consumer protection department to see which information it holds about them. A good place to find extra information is at the Better Business Bureau or similar government supported review site.
If you see a business has only have 5-star reviews, be very cautious. A perfect score is virtually impossible for any business, and suggests foul play is at hand.
Tip 3: Ask Your Digital Community
Say you are in need of a handyman (or woman), there will be a number of offers. You can ask in niche-specific forums like town or city themed groups on Facebook if anyone has some service experience from X company. Consider asking on Twitter with relevant hashtags included to access a wider audience like "Does anyone know a good #plumber in #Topeka ? #kansas "
Tip 4: Check the Business Website for Contact Details
If they have their contact information, a form, an address, or something else that makes getting in touch with them, that is a green flag. Sketchy businesses tend to avoid facilitating information on how to reach them.
Does the webpage have examples of social proof? Like testimonials and customer reviews? Ask if the company allows you to verify the statements yourself to confirm they were authentic.
12 Places to Check a Business Reputation Online
Look for on Glassdoor: if the company truly makes an effort in creating a nice space and giving its workers nice perks, it is more likely that the company has a better service, product, and reputation.
Yelp.com: go to this page and filter by the reviews that have 1-star and 2-stars. Read through it and see what repeats itself more often. Is it something that pains you? If it is something you cannot accept or something you would have a hard time dealing with, then you know it is not a good suite for you. Similarly, you can do the same on Indeed.
Check their Twitter account: a lot of businesses use this platform to communicate directly with their audience. What kind of content do they post? Do they engage frequently with respondents? Give it a go and see what come out of it.
LinkedIn company page: checking online for the company's reputation, a good thing to see is if they organize events that give back to the community. This is a sense of responsibility and gratitude for the support. This builds trust, and it also indicates that the company does care about its reputation.
Promotion and loyalty programs: if a company has aggressive discount programs, you can guess its only focus is to sell. All else does not matter. The reputation is probably not good. On the other hand, if it has a well crafted loyalty program, they still wish to sell, but there is more nuance to it. There is a minimum customer service, and quality. This generally leads to better reputation.
Google alerts: if you want to understand the nature of a company more in depth, a nice free tool is Google alerts. Each time the specific words or brand you want to track gets mentioned online, you will get notifications. So if you want to know if a company you wish to apply to is a good one, set up an alert and see which results you get.
Google News and other news sources: you can read about news on Google, which basically aggregates every piece of news about the company you want to know of. Or you can also go to a business newspaper like Forbes and search the company there to see what relevant news exists.
Reddit: if you enter one of the sub-spaces inside this forum, where people share their experiences regarding certain industries, you can ask people about the company you want to know more about. There is a high chance you will get feedback.

Business forums

: if you're looking to invest in a business, or just gather information regarding its reputation, niche forums like Small Business Forum, ChefTalk, LinkedIn Groups, or Warrior Forum, are good examples of places to do some digging.
Facebook: the company you might be interested in purchasing from them probably has a business page on the platform. Analyze how they interact with people, if they are transparent with the information they share in updates, etc.)
Instagram: this younger sibling of Facebook has the beauty of a well integrated direct messaging system. You can leverage it by asking directly questions regarding their product or service. Judge by yourself while you see how they engage with other customers.
Google a business with a local address: you might be interested in a company with many franchises. Search on Google for the name of the company and the location you want. This will through, when possible, more narrowed information that matched better your interest.