The Benefits of Google Star Ratings I How To Integrate them
Published: May 19, 2016 | Last updated: June 28, 2022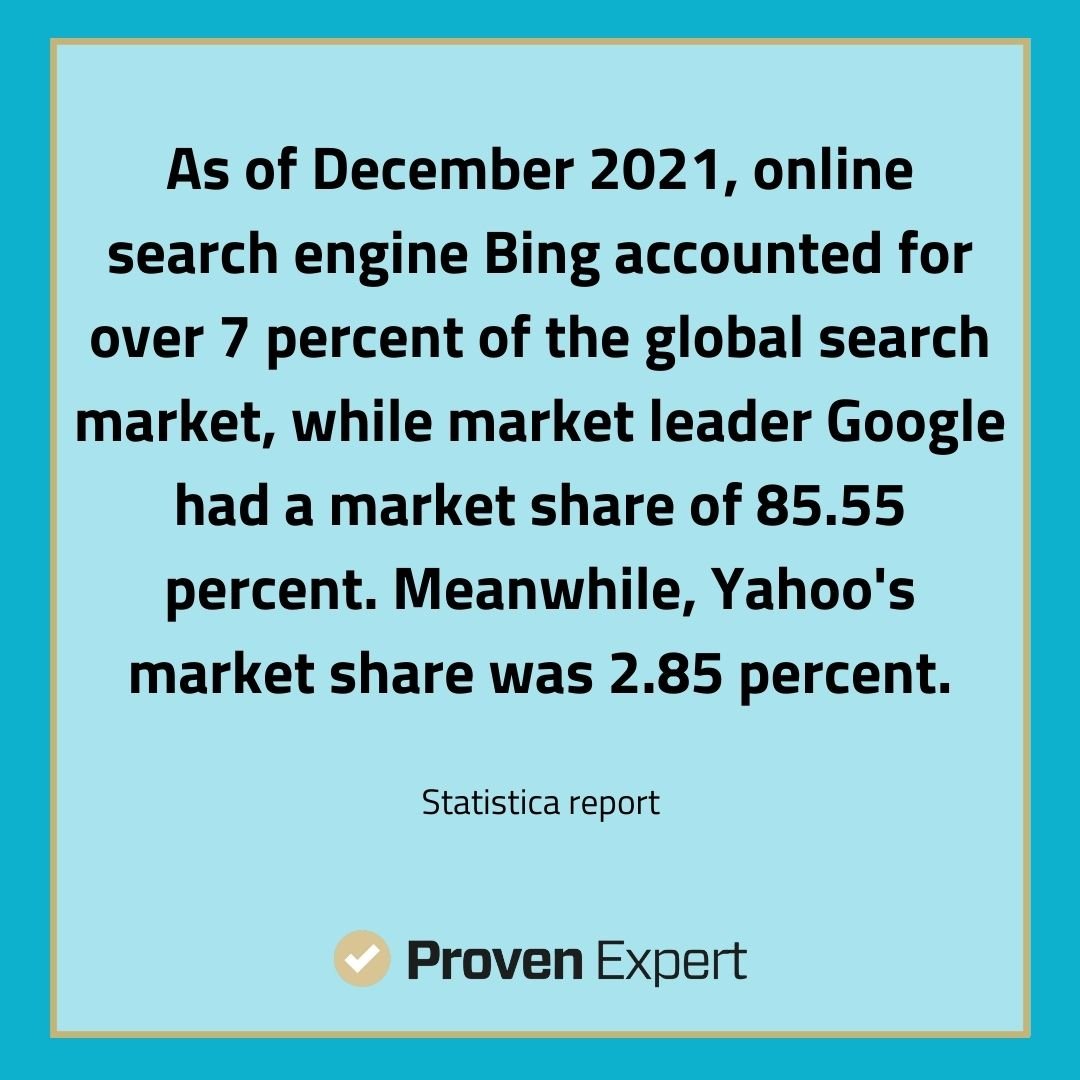 In the first half of this guest blog by Bastian Sens, he explains that those businesses who use Google rating stars experience higher click rates, which increase brand awareness and a higher ranking in search engines. In the second half, he describes how you can integrate a performance-boosting, eye-catching graphic into your website via Proven Expert.
Achieve brand awareness with rating stars
Displaying rating stars in Google search results isn't new. Those who opt to display their rating stars welcome higher click rates. It's a clear sign for users that this business deserves more attention than the others.
While the Google algorithm includes various factors in how relevant it categorizes a website, the click rate is the number one decisive criterion. Check out the graph below.

What Google is trying to do is clear: The search engine wants to offer the best search results and is learning by observing those who search. If a search result deviates from these average click rate values, this influences its position in the search results. This means that when a search result has better click rates than the average, this result will appear higher on the list.
Ill. 1: Ranking factors 2015
Source: searchmetrics
Optimization of page name, meta descriptions and URL (which is used by Google as a preview in the search results) are all part of search engine optimization. Below, the page name is displayed in blue, the URL in green, and the meta description in gray. In between the URL and the meta description lies the rating stars. How much more appealing does the search result look with the rating stars included?

Ill. 2: Search result for SEO Newsletter
Source/Screenshot: google.de
It is also possible to display your ratings in Google alongside natural results for some time now. These ratings stars provide multiple clear advantages:
Stand out from competitors who have no ratings
Draw attention with orange rating stars
Create trust right in the search results
The effect of the ratings stars on Google is immense. When we added them to our agency's website sensational-marketing.de, our click rate increased by 5%. In addition, studies show, that ratings influence the shopping behaviour of potential customers. 78.3% of those surveyed confirmed that ratings influenced their decision to buy.
How does a business include their rating stars when searched for?
To integrate your Google seller ratings into a website created using a website builder, see the tutorial from your provider (e.g. Jimdo). We'll show you the best way to make your feedback visible to your customers.
Note: Integrating rich snippets into the footer is recommended no matter what kind of website builder you use. This is the bottom part of the website. Unless you have specified otherwise, the footer will appear identical on your website's subpages. In the example below, you can see the footer for www.provenexpert.com with the rich snippet below on the right. If you've integrated rich snippets into the footer, ensure that the GooError! Hyperlink reference not valid.gs are displayed for all your sub-pages in the search results.
A new window will open for integraError! Hyperlink reference not valid.m other platforms or Google seller ratings.
To have your ratings stars displayed in Google search results, click on " "Additional Content and Add-ons" for further options for adding content. Here, click on "Widgets/HTML" to integrate the code.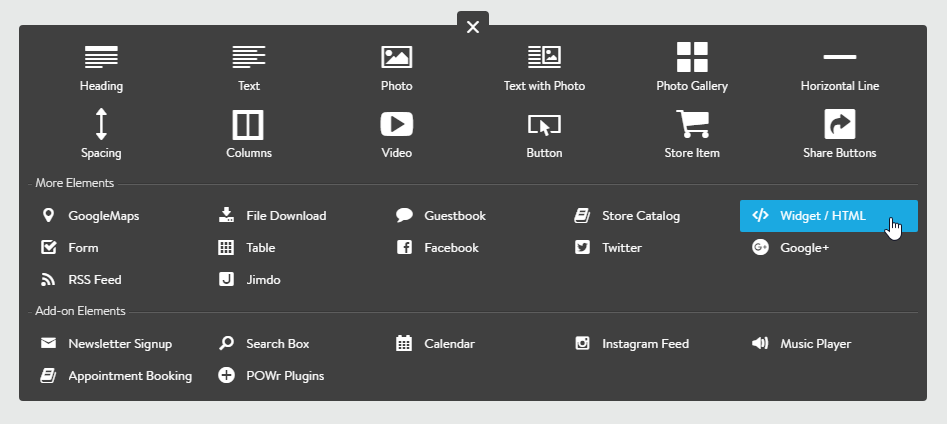 If you have already copied the code, paste it here. Alternatively, you can find a step-by-step guide for copying the code for your Google seller ratings in the main part of the blog article. Step 1: How to find the rich snippet code for your Google seller ratings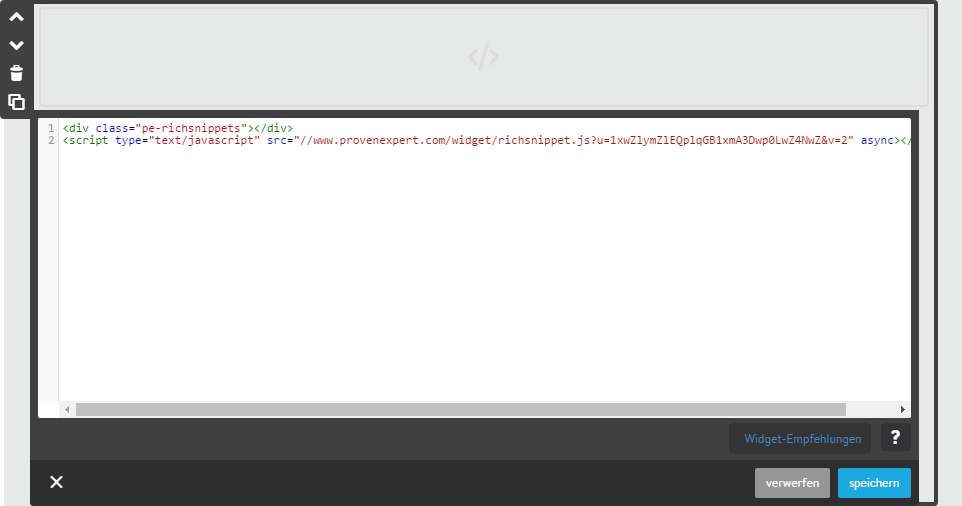 After you've pasted in the code and finished the process by clicking on "Save", your Google seller ratings will display on your website in the position you have specified.
You're almost there! Google just needs to recrawl your website first. You can wait until Google does this by default, but we recommend you send Google a notification that your website contains new content and should be recrawled. Your Google seller ratings will be visible on your Jimdo website shortly – there's no specific duration for how long this will take.
Proven Expert is currently offering a 30-day free premium subscription. Sign up here to avail. Take a step in the right direction towards more trust, more customers and more revenue.
Summary
There are many benefits from integrating Google rating stars to be displayed in search engines for your business. The main advantages are:
Higher click rates
Increase brand awareness
Higher Search Engine ranking
To integrate Google rating stars, follow the steps below:
Find the rich snippet code for your Google seller ratings
Integrate the Rich Snippet into your Website
Want to take control over your reputation? Manage your reviews with ease on ProvenExpert now.