Tutorial: integrate Google seller ratings on your website
Published: April 17, 2018 | Last updated: June 22, 2022
In this tutorial, you'll learn how to display your aggregated customer ratings as an individual Google Star rating (in search engines and on website) on websites created using standard website builders
Click on the two steps below to jump straight into the step-by-step guide, or read on to learn more about Google Seller Ratings.
Step 1: How to find the rich snippet code for your Google seller ratings
Step 2: How to integrate the Rich Snippet into your Website
- Jimdo
What are Google seller ratings?
These are the orange ratings stars that display under search results in Google (and in other search engines too). Check out the image below, which is a 4.8 rating, based on 262 reviews.

As a ProvenExpert customer, you can benefit by placing your aggregated (coming from all review platforms) customer ratings prominently in the Google search directly below your website URL (the green text in the image above). They will appear as one individual Google seller rating. It's easy and no programming knowledge is required. You can also display this aggregated rating on your website.
By displaying your aggregated rating as an individual Google seller rating you grab people's attention in search engines, increase your businesses visibility, and instil trust in potential customers. The combination of these three results lead to more clicks on your website, meaning more customers. Let's take you through the two easy steps so you can ….
Note:In order to display Google stars on the website in the google search results, you require at least the ProvenExpert PLUS plan.
Step 1: Find the rich snippet code for your Google seller ratings
For your aggregated customer rating to be displayed as an individual Google seller rating in Google search results, you need to integrate what is known as a rich snippet into your website. This means you need to display your aggregated ratings (aggregated on Proven Expert) on your website in order for Google to recognize them at a later point. Keep reading to learn more about how to find the code you need to display a rich snippet with your seller ratings on your website.
What is a rich snippet?
A rich snippet enables your data is be analyzed and comes in .org notation. This allows the Google crawler to retrieve your average score, rating stars and number of reviews and display them in your search results listing. You can find out more about the use of rich snippets and recommendations and official guidelines from Google here.
To find the code, log in to your ProvenExpert profile and click above right on "Google seller ratings" (or follow this link if you are already signed in). Here, you'll find the code, which you need to copy and paste into your website builder in order to display Google seller ratings.
Note:We provide code in PHP and JavaScript. For a website created using a website builder, please use JavaScript, as PHP code will not work.
Before integrating the script, define how you want to display the stars on your website. Select the kind of display you prefer and the code will be automatically adjusted.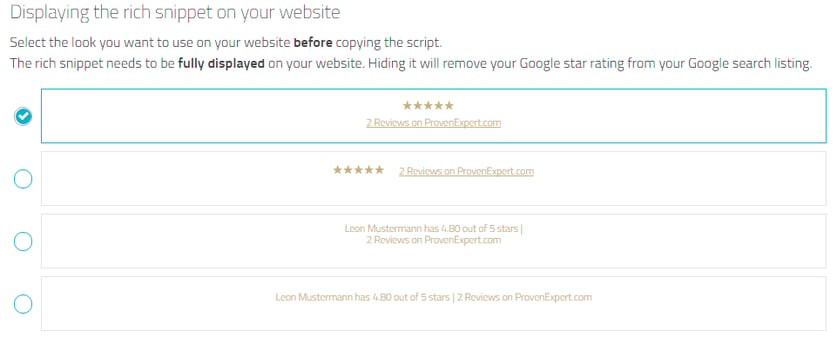 Have your website display the JavaScript code and copy it for pasting it to your website. The simplest way is to leave the tab with the code open in your browser and use a new tab to log in to the website builder you're using. The next step shows you how and where to integrate the code into your website.

Note:It's important to have the rich snippet displayed in full on your website, including with stars and ratings, and it must be visible and not blocked by other content on your website. If this isn't the case, Google will not be able to read the code and your ratings won't be visible in search results.
Step 2: How to integrate the Rich Snippet into your Website
To integrate your Google seller ratings into a website created using a website builder, see the tutorial from your provider (e.g. Jimdo). We'll show you the best way to make your feedback visible to your customers.
Note:No matter what kind of website builder you use, integrating rich snippets into the footer is recommended. This is the bottom part of the website. Unless you have specified otherwise, the footer will appear identical on all your website's sub pages. In the example below, you can see the footer for www.provenexpert.com with the rich snippet below on the right. If you've integrated rich snippets into the footer, make sure that the Google seller ratings are displayed for all your sub pages in the search results.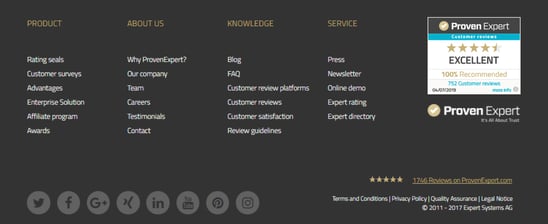 Google seller ratings for your Jimdo website
Customize your website to your exact preferences. Jimdo contains a range of templates for various website themes and fields of activity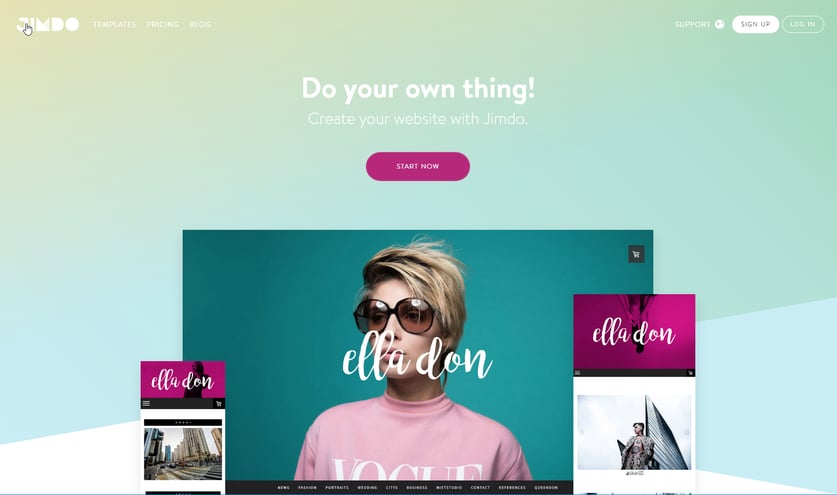 After setting up your website or online store on Jimdo, you can integrate Google seller ratings. To add Google seller ratings to the website footer, scroll down to the bottom of the page add use the function "Add Content".

A new window will open for integrating widgets from other platforms or Google seller ratings.
To have your ratings stars displayed in Google search results, click on " "Additional Content and Add-ons"" for further options for adding content. Here, click on "Widgets/HTML" to integrate the code.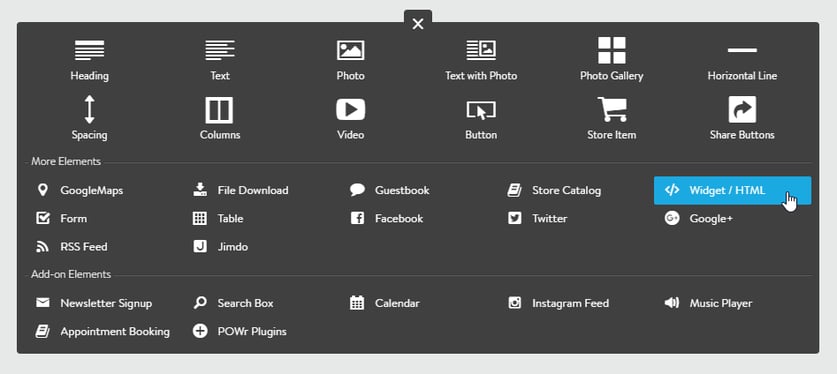 If you have already copied the code, paste it here. Alternatively, you can find a step-by-step guide for copying the code for your Google seller ratings in the main part of the blog article. Step 1: How to find the rich snippet code for your Google seller ratings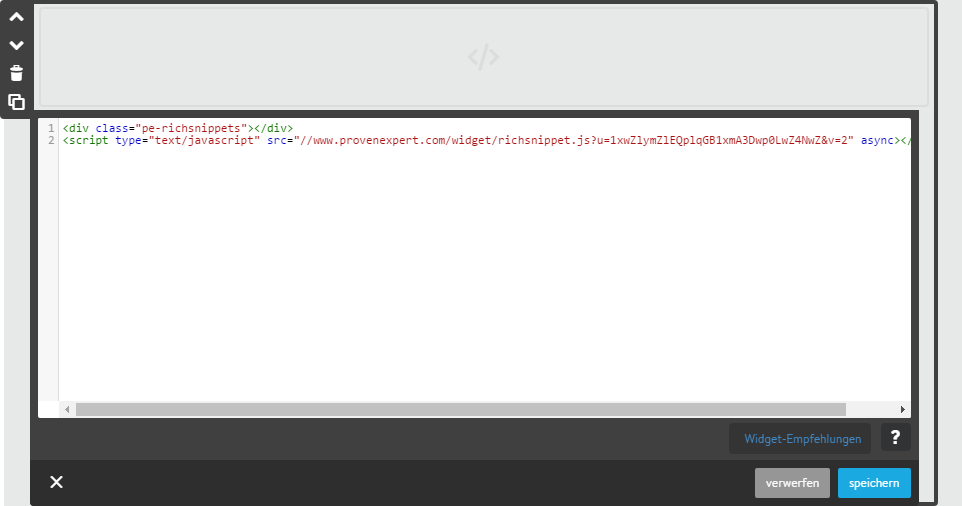 After you've pasted in the code and finished the process by clicking on "Save" , your Google seller ratings will display on your website in the position you have specified.
You're almost there! Google just needs to recrawl your website first. You can wait until Google does this by default, but we recommend you send Google a notification that your website contains new content and should be recrawled. Your Google seller ratings will be visible on your Jimdo website shortly - there's no specific duration for how long this will take.
Want to take control over your reputation? Manage your reviews with ease on ProvenExpert now.