From adjustable tables to Zoom: The home office ABC
Published: August 14, 2020 | Last updated: April 5, 2023
A productive home office requires professionalism and discipline. It's all about suitable tools, the right equipment, concentration and structure. ProvenExpert shows you how it works.
Home office basics
Changing from a company workplace to a home office seems simple at first: You need a table (ideally height-adjustable between 68 and 76 cm), a notebook and a cup of coffee - and you're ready to go. But there are other important work standards and procedures. There is, for example, the right working space: At first glance, many places are conceivable locations for the home office. But the decisive factor is that you can be productive. Do you have the necessary peace and quiet or is noise from the street disturbing? Are the noises of the neighbours distracting? Would earplugs or noise-canceling headphones generally be an option, or would you then also overhear relevant sounds, e.g. the doorbell?
The next factor: time. At what time do you want to work in your home office? It is important to find periods of time when you perform at your best and when the disturbances are at their lowest. These phases are ideal for difficult, complex tasks. It is also advisable to bundle similar tasks (e.g. mails or telephone calls) and to process them as a package. This way you save time and have more breaks, which should be scheduled regularly and ideally combined with exercise.
In general, the light factor should not be underestimated. Studies have found that daylight or sunlight enables better productivity compared to LED light. By the way: the right clothing, as would otherwise be used in the company, usually also increases work motivation and performance.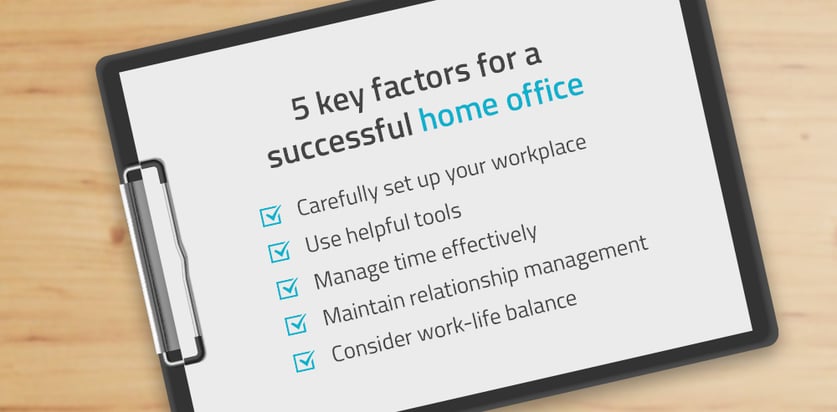 Professional equipment: that's better!
Professional equipment is the basis for home office work success. This usually includes a computer with webcam for video conferencing and other hardware such as printers and scanners for paperwork. A securely encrypted VPN connection is advisable for digital communication with the company.
However, general ergonomics at the home office workplace is also important, because if you want to work successfully in your home office on a long-term basis, you have to keep an eye on your own health and fitness. An additional standing desk is also a good option to avoid working exclusively in a seated position.
Increase productivity: Kids, it's time!
Work productivity needs successful rituals and structures that are established through time management and appropriate priorities: for example, fixed office hours per weekday or clear plans that use different categories for the respective priorities.
The challenge with the home office is to correctly categorize all work in order to decide on its prioritization: Which task is being processed and which task is rejected or delegated? The time management model ABC Analysis checks all tasks according to their contribution to the achievement of objectives. In this way, we can see that there are many tasks that keep us very busy but do not help us achieve our goals. The ABC model also provides a good argumentation basis for saying "no" - to tasks that are not aimed at your own goals.
Professional relationship management
The digital is a challenge in establishing and maintaining professional contacts. Without doubt, we can communicate wonderfully with digital tools. However, humour, feelings, worries and fears as subtext of our communication are easily lost in a digital exchange. Yet it is precisely these aspects that shape interpersonal exchange, create trust and strengthen the ability to solve problems together. Therefore the motto applies: digital and analogue - both are important. It is advisable not only to send digital messages, but also to meet in person time and again to make small talk - if that is possible. Video calls that have only one goal: Drinking coffee, after-work beer or just chatting help to increase joint productivity.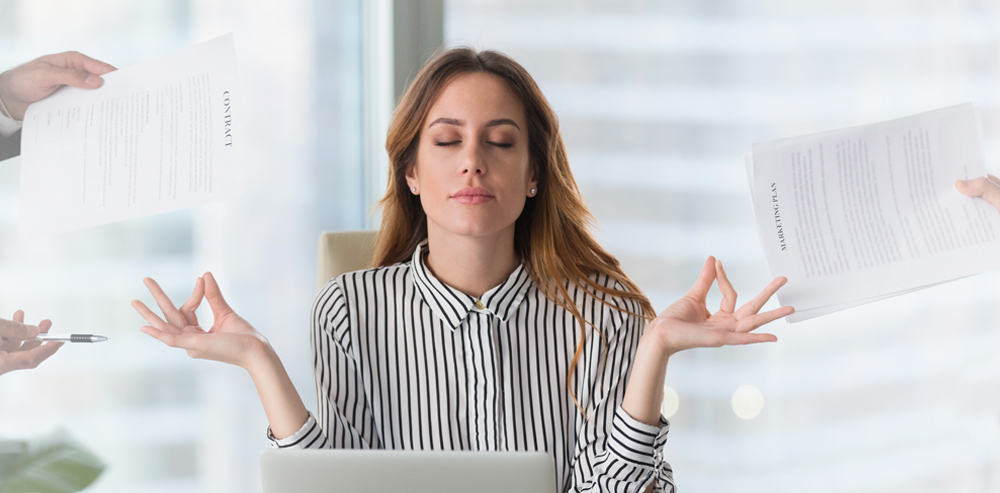 Work-life balance: movement for mind and body
In the home office, too, the following applies: don't just strain your body, but also think about ways to relax it. After 90 minutes of work at the latest, a break is recommended. This includes a regular workout. Rewards that boost work motivation are generally a good idea. Digital leisure activities such as video games, series or social media can serve as rewards, but should be limited in time.
It's all about the right balance - now focus on your reputation!
</div class="subline">