Spotting Fake Reviews: 6 tips from a review management expert
Published: March 1, 2021 | Last updated: June 21, 2022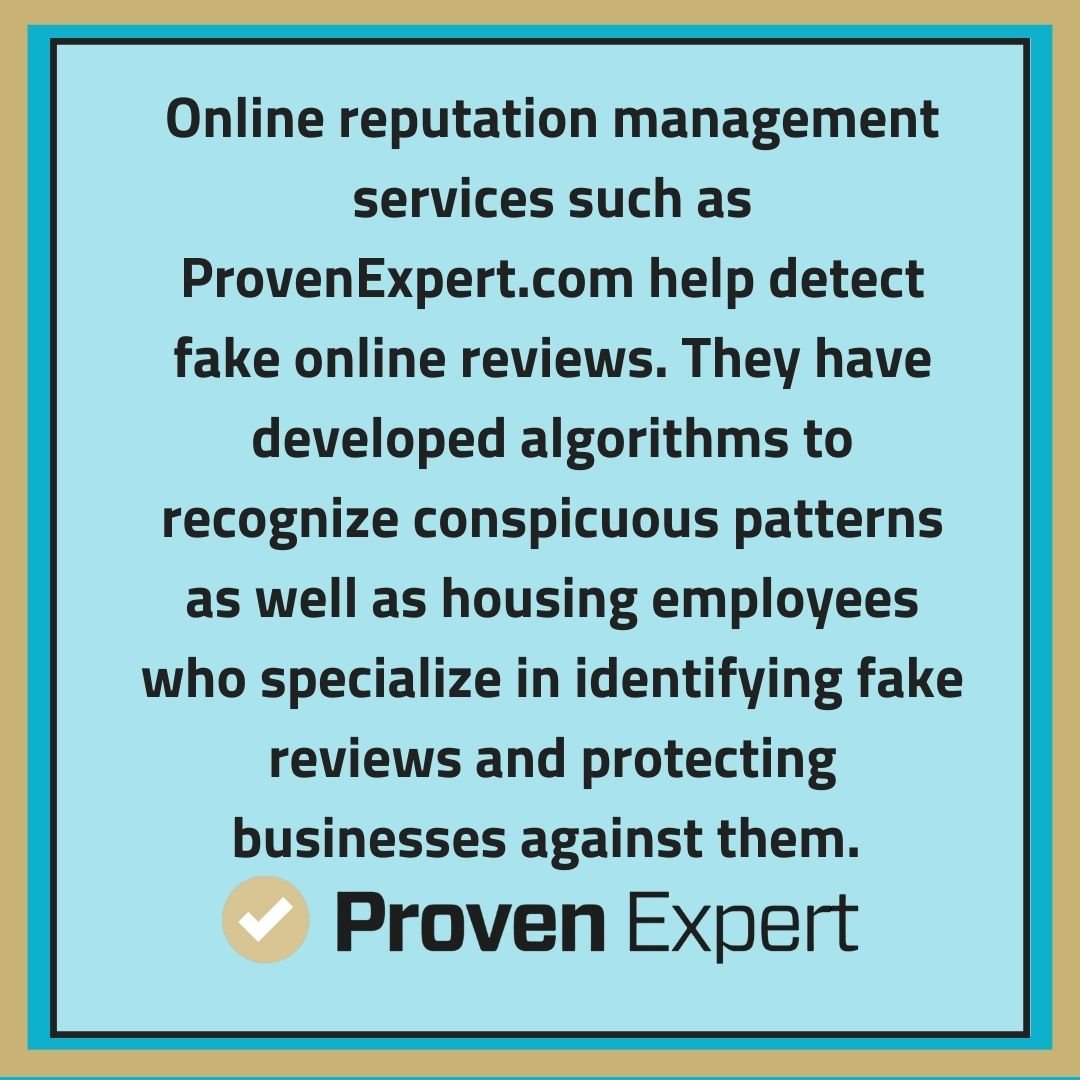 Fake reviewing is a toxic tactic used by tricksy businesses in order to falsely boost their online reputation. ProvenExpert shows how to spot them easily
1. Firsthand evidence: Verified customers
2. If the review is conspicuously unremarkable, caution is advised
3. Size matters
4. Check the authors' other reviews
5. The frequency decides
6. Use a tool to help you
7. What should I do if I suspect a fake review?
1. Look for verified customers
Consumers are increasingly looking for information online, especially before making a purchase decision. The presence of reviews and testimonials from buyers are important factors behind the decision to buy the product or not. It's therefore annoying when the review turns out to be fake.
But how can you recognize a genuine buyer? Genuine reviews are usually present when they are authentic buyers or actual service users. The typical indicators of authenticity here are trustworthy labels such as "Verified Customer" or "Verified Purchase" (verified by the company). Of course, this doesn't mean that only verified customers are real customers, but it is a solid starting point.
2. Investigate proper use of grammar
Grammatical & spelling errors, or sentences that don't make any sense? Are texts full of the same keywords over and over again? Do the reviews very often contain the product name written out in full? All these can be indications that it is a fake review.
Anyone who deals with reviews professionally knows that on the other hand reviews that are too perfectly written tend to sometimes be written by a marketing professional. Suppose the review is pristine and sings praise about the product in a godly manner. In that case, look for a large variety of positive adjectives (the reason for the large variety of positive adjectives is to increase the product's ranking on search engines. Learn more about this here).
Also, if the product name is always written out in full, it is likely that someone is deliberately writing a review. This does not always have to be the company itself or an agency; it can sometimes be testers lured by offers to write the most positive reviews possible.
Enough is enough, when are fake reviews actually a crime?
3. Determine if the review is unusually long or detailed
Fake reviews are often recognized if they are incredibly long and detailed. Authentic customers and users rarely have time for lengthy reports and tend to give short, clear feedback. They get to the point quickly, without much embellishment. There are exceptions to the rule here, too, for example, when a product has been tested over a more extended period of time. Then the reviews are often long and detailed. Nevertheless, you should raise your antenna if the review seems overdrawn and hyper-detailed.
If competitors are criticized in detail in the long texts, this is another indicator of fake reviews. If advertising slogans or phrases appear in the reviews about the product, this also indicates a fake review. Another sign is if the review contains marketing phrases or other similarly worded reviews out there.
4. Check the authors' other reviews
It is also helpful to look at those who wrote the review: How often does this person submit reviews? What products or services do they review? Are only selected brand categories frequently reviewed or are only five-star ratings given? Is there an identifiable style to the reviews? How consistent are the judgments? If the answers to these questions reveal unusual patterns, caution is advised.
5. Study the frequency of reviews
Suppose an excessive amount of praise or criticism is published digitally within a very short time. A careful second look is advisable as this might be part of a mass fake review execution. However, an accumulation of positive reviews in a brief time might not always indicate a fake. For example, sometimes, companies call satisfied customers to submit reviews in an email or social media call. If you notice such a case, check the reviews for signs mentioned in the other sections of this article before making a judgment.
Suppose an over-the-top negative review follows directly after a series of positive customer reviews. In that case, the case is usually clear: fake reviews were bought to weaken the reputation (and vice versa).
6. Use a tool to help you
Even the best human screening may not accurately indicate authenticity successfully. If you are ever unsure, some tools can help, like reviewmeta.com, where you can analyze Amazon reviews for trustworthiness. The result shows suspicious reviews for an Amazon product and lists the reasons behind a poor trustworthy score.
At the same time, legit customer reviews are highlighted with the "100% Trust" label. The results do not provide absolute certainty, but they can be a good indicator, especially when combined with your human intuition.

Online reputation management services such as ProvenExpert.com also help detect fake online reviews. They have developed algorithms to recognize conspicuous patterns as well as housing employees who specialize in identifying fake reviews and protecting businesses against them.

Other tools for checking for fakes: The Review Index and Fakespot.
What to do as a business if you suspect you have received fake reviews?
In the case of defamatory or slanderous statements, contact a lawyer and take action against the review.
If you are sure that the reviewer was not a customer and the review is fake contact that platform directly (you can usually report reviews as a profile owner if they are demonstrably false or there was no business relationship).
Reviews are not always removed or marked as fake reviews. Therefore, confront the review from the outset and take a stand on the allegations. Mistakes can happen, but protect your reputation if the fault is not yours, and you're sure about it.
Summary
Tricksters are everywhere, so it's no surprise that they also like to cheat their way into reviews. They scam their way into fake customer reviews for various unethical and illegal purposes. To help you detect fakes, follow the following six tips:
Look for verified customers
Investigate proper use of grammar
Determine if the review is unusually long or detailed
Check the authors' other reviews
Study the frequency of reviews
Use a tool to help you
Your own reputation comes first for you? Take the matter into your own hands.