Increasing sales by 10% with customer reviews
Published: February 15, 2018 | Last updated: April 5, 2023
Increase trust and visibility online to attract new customers.
Who asks wins! With ProvenExpert, you can demonstrably increase your sales by approximately 10% – effectively investing 15 minutes of your time per week only. This is the result of an internal study, for which we asked 27,000 of our customers about their experiences and results with regard to the use of ProvenExpert. Customer reviews literally result in direct financial benefit – they are the proverbial ace up your sleeve to increase trust, become more visible, and acquire new customers. In this article, we would like to break down in detail why ProvenExpert can specifically help you to increase your sales.
Why do customer reviews lead to higher sales figures? Trust sells! Before consumers actually buy anything from you, they will have heard about your company and seen related content several times. Customers feel the need to inform themselves about potential new purchases and service providers much more comprehensively than 20 years ago. In this context, the voices of your customers are the ideal medium to ensure that people trust you more than the competition – and in turn generate higher effective sales figures.
Your ProvenExpert profile as a magnet to attract inquiries and orders

When it comes to searching for a product or a specific brand in the world wide web, Google and similar websites are usually the first stop. With your ProvenExpert profile, you can offer prospective buyers more than just another search engine hit. Your ProvenExpert profile contains the information that is relevant to your prospective buyers: the experiences of your customers are the right arguments to decide in favor of you. With the "Callback request" and "Write a message" buttons, you can offer more possibilities to contact you – as far as our experience goes, this very often results in concrete inquiries.
More reviews – more customers
To acquire even more customers who then can promote your business, you can invite your customers to participate in surveys with the help of our invitation function. The more specifically you ask your customers about your services, the higher is the probability that you can in turn reach out to prospective customers with similar interests or problems.In other words: the more diverse your customer reviews are, the more prospective buyers identify themselves with the reviewer – which moves them one step closer to your cash register. You can also add reviews from other platforms to your ProvenExpert profile. This enables you to present yourself as transparently as possible. The more reviews you collect, the more representative and convincing is your review score for prospective buyers.

Tip:By the way: some customers simply forget to write a review – even though they actually wanted to do it. Additionally, many customers think that their feedback is unnecessary because reviews that have already been posted reflect their opinion. Nevertheless, these voices are important. Reach out to these customer groups with the help of our invitation and reminder functions – this way, you won't miss out on these valuable promotional messengers.
The seal – Boosting confidence right before the purchase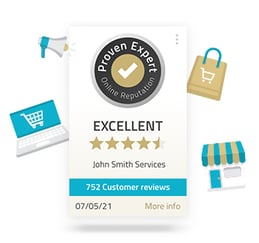 The first impression of your website includes a rating seal that is immediately visible. This plays an important role when it comes to encouraging customers to buy.You create an atmosphere of trust and safety. After all, for many consumers, a rating seal is the final confidence booster on the way to the check-out. This is why you should make use of the possibility to embed your rating seal on your website!
Convince new customers directly on Google
In any case, your ProvenExpert profile attracts attention by displaying the typical orange rating starts in the search engine results. Additionally, you can also display your rating stars in the Google search results in the sub-pages of your website. That way, you clearly distinguish yourself from your competitors and demonstrably get more clicks than without Google stars. You can find more tips and tricks about how you can optimize your profile with regard to that here .
Start boosting your sales now
The more positive experiences you can offer your customers, the more you are likely to secure those customers' loyalty to your company. This holds true from the first search to the final click to buy or book – and also for recurring sales talks. With ProvenExpert, you don't only simplify your acquisition of new customers – you also secure your authentic success with them. That way, you can increase your sales in the long term – thanks to our professional review management system.
Want to take control over your reputation? Manage your reviews with ease on ProvenExpert now.