Why Google My Business Is More Important Than Ever in 2022
Published: August 27, 2020 | Last updated: June 28, 2022
Whether it is about getting to know your target group better, a professional appearance on the web or a high search engine ranking: Google is the answer! ProvenExpert explains how entrepreneurs can benefit.
1. Google My Business is a simple path towards a professional web presence
Professionally presenting your company online is child's play with the Google My Business service. In addition to name, type of business, address and opening hours, the profile displays reviews that users assign via Google search, as well as photos and 360-degree images of the company.
The latter can be easily integrated on Facebook or the company website. The advantage: customers can take a virtual tour, and the content is displayed prominently as soon as the company name is googled.
2. Google My Business increases your reach locally
A company entry on Google My Business is practically mandatory for stores, service providers and companies with a local focus. Especially for start-ups, and small and medium-sized businesses, this increases the chance of a place in the so-called Local Pack. These are the first three results in the Google search when searching for the location.
Tip: To be placed in the Local Pack, the data on your profile must match the information on your website. For more on localized SEO, we recommend you read the first tip in this article.
A recent study by MOZ demonstrated that Google's My Business signals are becoming increasingly important".The study estimates that the impact of Google My Business activities on the ranking within search results has increased from 19 to a total of 25 percent. In terms of both the Local Pack and the Local Finder, Google My Business has gained 38 percent in influence in 2019, the study continues.
Combine Google My Business, an informative website and a ProvenExpert profile for a professional image on the web. This way new customers know where to find you, what you offer and how you have already convinced other customers.
3. Google My Business allows you to stay in touch with the customers and gather their reviews
In November 2018, Google first announced the news function for Google My Business. Last year, the service expanded the feature. Today, Google My Business is a communication platform where customers can not only review, but also contact the company directly. This means: With Google, you are always available for your customers.
However, Google My Business only displays reviews that were submitted directly via the search engine. For a comprehensive overview it is recommended to use ProvenExpert. With this tool you can bundle all reviews that customers give on Google as well as on other review portals such as Yelp, TripAdvisor or Facebook, and 420 other portals, which provides you with the most accurate score possible.
If you would like to know more about the many benefits of your business review bundling (review aggregation) on Proven Expert will bring, read here.
4. Google My Business enables the use of Google Analytics
Knowing and understanding your target audience is essential for a successful business. How do users behave after finding your profile in the search engine? Insights from Google My Business provide detailed information about this behavior on Google Analytics.
Do they first check out the picture gallery, take a virtual tour, browse your website, or call a route description to visit you directly on-site? The statistics also provide fascinating insights into which keywords your company profile ranks in the search engine and where you can make improvements to be found more easily.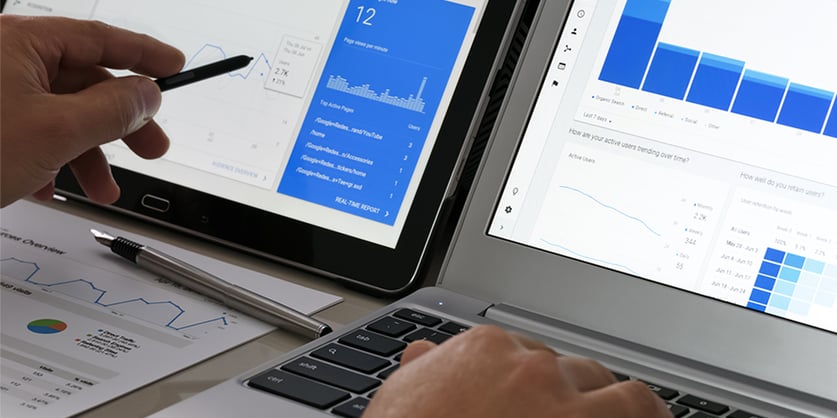 5. Google My Business Offer an Official Website For Your Business
When you activate the website creating feature on Google My Business, your website will auto-generate info from your profile that you can customize with text, photos, and design themes.
All you'll need to do is purchase a domain and connect your Google Analytics account.
If you'd like to get started, click here to create a Google My Business Website.
Summary
Google My Business has always been relevant because it's usually the first thing your customers notice upon searching for your business. In 2022, setting up on Google My Business has become more important than ever because:
It's a simple path towards a professional web presence that increases your reach locally
Google My Business allows you to stay in touch with the customers and gather their reviews
Google My Business Offer an Official Website For Your Business along with the use of Google Analytics
With ProvenExpert you will attract attentio
n through good customer reviews. More than 120.000 users are already working on their own online reputation. When will you work on it?