5 Straightforward Ways to Build Customer Trust & Loyalty
Published: June 10, 2020 | Last updated: June 28, 2022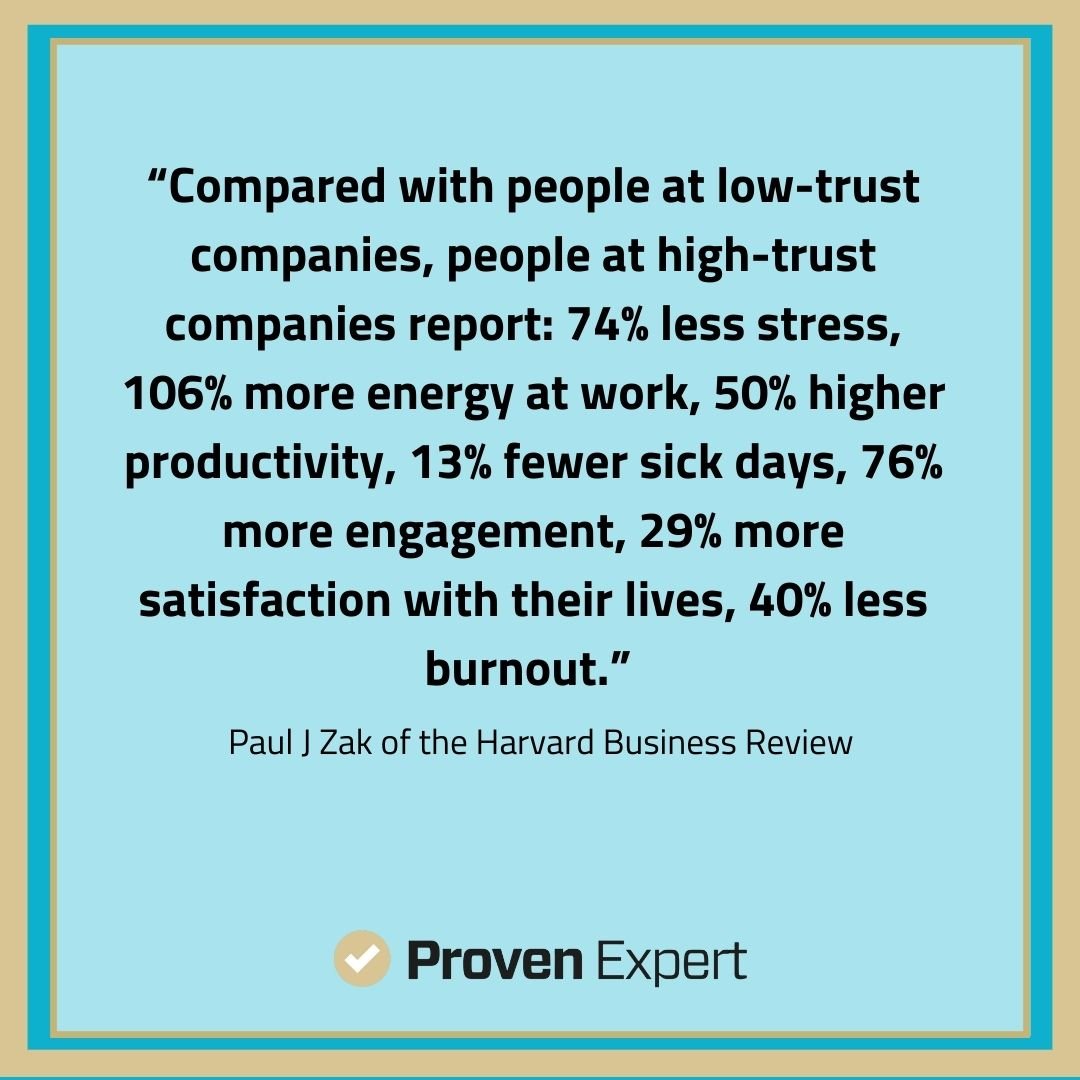 Do you prefer to give your money to companies you trust? It's the same with your customers! Customers will spend money more willingly when they trust you and remain loyal to your products and services. The Golden question: How do you build trust? ProvenExpert shows five approaches that are guaranteed to work.
1. Customers will trust you when others trust you.
People trust those who are already trusted. Supportive and positive press reports from respected media, certificates from test institutes and reviews from other customers prove whether a company is trustworthy or not.
Just make sure first to confirm that these reviews are not fake. If you want to know how to spot fake customer reviews, read this article.
How do you make these people trust you? First and foremost, you need high quality and reliable product or service. Secondly, you need to invest in public relations, product tests and review marketing. Proven Expert specializes in review marketing. To learn how you can improve customer trust and boost your business with customer reviews, feel free to check us out here.
2. Customers will trust you when you are transparent
Customers want to know who they are doing business with. Demonstrate transparency wherever you can, whether on a corporate blog or a social media profile: Those who seek proximity to the target group will win.
Show the world who you are: What is your vision? What do you do for others? And who will help you fulfil this mission? A look into other departments or your everyday work as a freelancer strengthens the trust of your customers.
I want to read more exciting stories about reputation management.
3. Customers will trust you when you communicate comprehensibly
There is no transparency without communication. Without transparency, there is no trust. The rule: communicate in a way that customers will understand. Who signs a contract in a language they don't speak themselves? Meaning: translate technical jargon, eliminate the abstract, shorten the long-drawn-out paragraphs. These rules also apply to all forms of communication, from the text descriptions of products in online shops to customer service e-mails.
This is only a brief tip on how to write without the bumpf. If you would like to learn more in-depth, we suggest you read one of the many great books written on the topic, for example, this one.
4. Customers will trust you when you focus on integrity
Trust is only gained by those who keep their promises over a long period. Honesty, transparency and comprehensible communication are only beneficial if they last. To win new customers as regular customers, freelancers and entrepreneurs must remain integral and consistently embody their values through their action. A strategy that is not consistent or if products are constantly changing damages integrity.
5. Customers will trust you when you signal goodwill
Do good and gain trust! Be it through short waiting times in the hotline, cost-free repairs or a regular newsletter with voucher codes: Those who accommodate their customers with additional services bind them to the company in the long term. It's useful to try and be unique here. If you give your customers something they cannot get anywhere else as a sign of goodwill, you are always one step ahead of the competition.
Summary
A business needs to establish trust with their customers if they want to achieve customer retention and loyalty while attracting new customers in the process. Customers will be more likely to trust you when:
You already have good reviews and feedback
Are transparent and communicate comprehensibly
You are show that your business focused on integrity and good will
Score real points through trust!