Building Customer Trust with social media | ProvenExpert.com
Published: January 28, 2021 | Last updated: June 28, 2022
Building trust in the digital world follows different rules than direct interaction in real life. The dynamics of social networks in particular require innovative, appropriate approaches in order to be able to build trust in the long term. ProvenExpert.com reveals what you need to bear in mind.
Why should your business be on social media?
Today, communication with prospective customers increasingly occurs via digital channels and more and more frequently directly via social media platforms. Studies have shown a continuous increase in social media users on almost all popular channels for years.

Facebook continues to lead the way. 94% of companies active on social media have a Facebook account. Instagram follows 76%, followed by LinkedIn (59%) and YouTube (53%).

An active social media account for your business allows your customers to stay up to date with what's going on internally more than on your website or blog

Social media allows your company to humanize its brand. Creating real human connections is a crucial benefit of social media for business. Introduce your customers to your company on a more informal level.

Social media increases your brand awareness. These days, people will check out your social media before going onto your website. Both Facebook and Instagram almost act as. So, when a business's social media account is dead, do you think a high percentage of customers will feel encouraged to go onto your website and spend money? More than likely not. Precursor for further investigation.
Which social media channel is right for your business?
Facebook and Instagram are great for brand, image and community building. No other social channel in Germany is currently enjoying success in influencer marketing as Instagram.

Twitteris an excellent active exchange of opinions and relevant news. It is also used heavily by politicians in particular, as one could see from the example of the last U.S. president. Snapchat and WhatsApp targets are also more entertaining and informative than sales-promoting - apart from discount promotions. Nevertheless, political and social change not infrequently lead to rapid adjustments and changes, so channels should be reviewed regularly. How TikTok's current triumphant success will develop remains to be seen.
Building trust with the right email marketing? We show you how it works!
Which social network is suitable for which target group?
Not all new platforms are suitable for every company and its target groups. TikTok, for example, is currently very trendy - but not necessarily the right channel for a conservative company.
The following questions help in selecting the right social media platform:
Does your target groupactively use the social media channel?
Which platforms are used by the competition?
Can the company's own brand identitybe communicated authentically via the channel?
And what technical requirements(e.g. equipment) need to be considered?
Finally, a certain level of media competence is essential for building trust. If a company does not correctly understand the functionality of Twitter, Instagram, Facebook, and the like, trust will hardly develop among the target group. Would you trust a cowboy who keeps falling off his horse?
How do you engage with customers on social media?
Communicating with your followers is the be-all and end-all of successful social media efforts. The basis for this is the ability to listen. That means not simply inserting prefabricated standard responses to user comments. Followers will only take a brand seriously if the brand takes them seriously.
In addition to proper communication, this includes active community management. Engage in a direct exchange with your followers and follow up on comments that are not so positive:
What was the user comment meant?
What exactly does it refer to?
What can you do to resolve doubts or frustration?
It is as important to listen carefully in order to enter the conversation authentically. Emotions are very important here! Every personal response is worth more than a perfectly considered standard phrase - whether funny, sad, or quick-witted.
When a brand shows emotionality on the social web, it takes on human traits and is perceived as more credible. Regular appointments for live chats or live videos also consolidate user interactions.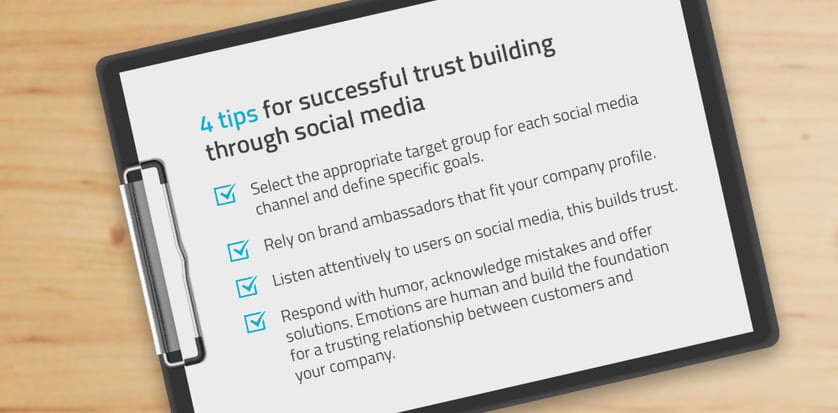 Gain "social trust" - digital brand ambassadors can help
A successful brand needs a face with an interesting, human personality - shaped by socially active employees: digital brand ambassadors. Apart from their employees, companies can rely on influencers or micro-influencers who present their brand authentically. Just as important: their satisfied customers, who report on their experiences on social networks. Responding to both positive and negative criticism, making it visible to all followers, increases credibility.
Fans of the watch brand Daniel Wellington, for example, take this approach by posting their pictures on Instagram with the hashtag #danielwellington, showing them out and about in a wide variety of places with the watch on their wrist. The brand reposted the best pictures. Other users thus understand how much the brand is trusted.

Brands like Hello Body, Mermaid+Me, and Banana Beauty have relied almost exclusively on influencers and their followers to market their products from the beginning. Using regular discount code campaigns, these brands have generated more than 100 million euros in sales in recent months, even though the brands have only been on the beauty market for a few years.
Why do users follow a brand online?
Users are interested in studies and tips that the company publishes regularly or hope to learn about product innovations or updates early. It is also not uncommon for them to follow companies and brands because they can participate in special discount campaigns or competitions on social media.
In recent years, the importance of online customer reviews has increased, so many users are on the channels to read about other customers' experiences. Teens see social media as an important source of information for "having their say." When they follow brands and companies, they're in the mood for fun and entertainment.

Anything that adds value to customers is suitable for your business and reputation. But how can a company be perceived as better, more entertaining, more informative than its competitors in the battle for attention? How can a fan, once won, be permanently retained? The answer to all these questions is: publish content on your channels that offers the target group relevant added value. Videos with behind-the-scenes insights, guides and tutorials, interviews, exciting facts and figures, but of course, also discount promotions, competitions or events to which only social followers are invited. But here, too, use the promotions sparingly.
Being active on social media as a company - these are the things to avoid!
As the name suggests, social networks focus on the social aspects. Therefore, it is taboo to bombard users and followers with too many advertising messages. 46% of users find too many advertising messages annoying. Instead, use the standard ads of the respective platform. Use isolated but well-thought-out campaigns that appeal to your followers and inspire them. Don't post just for the sake of posting. You want to add value to your subscribers, not spread irrelevant information. Again, sometimes less is more.

An often-underrated taboo is not replying to comments and messages. It can quickly become overwhelming to keep an eye on the inboxes of various social media channels and the support and info inbox and telephone availability. But again, respond as quickly as possible. As a quick tip, tools like Hootsuite and Buffer make it easy to maintain multiple social media channels simultaneously, allowing for timely responses.
Of course, responding quickly, especially when users have a problem or voice criticism, is often crucial to resolving the conflict soon. In doing so, always try to remain calm and respond in a considerate manner. Escalating the situation could result in further negative feedback. Remain calm and objective, acknowledge mistakes and work together to find the best way to resolve the situation. Trust that has been disappointed or lost is difficult to rebuild, so maintaining the community should be a top priority.
Here's how - Communicate properly on social media
One successful example of social media activities is the Coca-Cola brand. On its social accounts, the focus is on storytelling with varied content that arouses emotions and consolidates values and content in the target group's minds. In this way, the beverage manufacturer builds long-term trust with customers and followers.
At the same time, the company engages in an intensive exchange with users. The brand relies on authentic, humorous personalities consuming its products in its imagery. In essence, the globally known beverage producer manages to be perceived as an important part of everyday culture through digital platforms.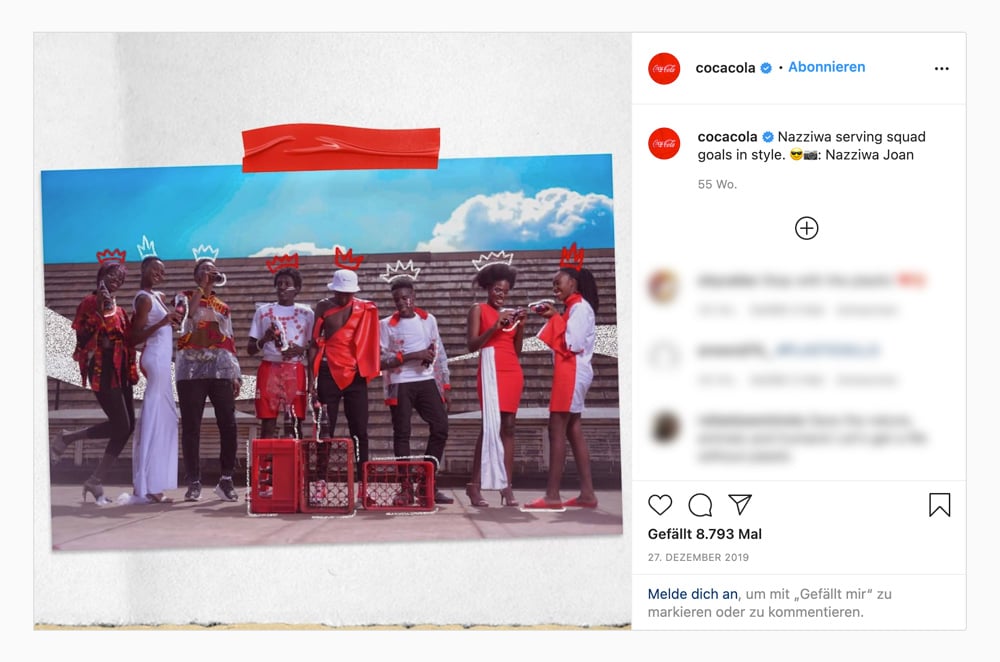 This practical example shows that social trust requires competence (expertise, media skills), resources (budgets, employees), a general sense of social interaction, and a certain amount of humour. Then, nothing will stand in the way of your success on social media, and you will build a loyal and faithful community for the long term.
Summary
It may seem overwhelming when it comes to building trust with your customers through social media, but the payoff to your business is worth it. Remember to consider...
WHY your business should be on social media – is there a good reason for you to have a presence?
WHICH of the channels will be right for you. With so many options, finding the platform that best fits both your business, and your demographic will give you a direct line to your customer base.
WHO are you marketing to? If your audience is full of bots, spam accounts, and people who aren't engaging with your content, you're not going to get the right engagement.
Review management got you overwhelmed? Or are you simply looking for some answers to your questions. Get in touch with us by emailing [[INSERT EMAIL HERE]] or visiting ProvenExpert.com for more information.
Your good reputation comes first for you? You want to do more for your online reputation?