You can handle reviews on social media: Here's how
Published: February 2, 2021 | Last updated: May 27, 2022
How do you defend your reputation at a time when nothing works without online reviews? Customers rate your products, your company or your service online and not only on Google. Cue social networks - people like, recommend and share with friends, and every now and then they also rate and complain. With these tips and the checklist you will have success on every channel!
Why are social networks important for companies?
Whether it's a review, a video message, a live story, or a simple "like," users of social networks use a variety of formats to rate both products and services every second of every day. What used to be the recommendation of friends and family has long since been superseded by Google, Yelp and social media channels such as Facebook, Twitter and Co..

On average, internet users worldwide spend 144 minutes per day on social media. On the largest social media channel, Facebook, with 2.38 billion users, there are users from every age group, from 14 to over 60. In addition to information and news updates on products, services and companies, users also look for competitions, discount campaigns and entertainment.
Reviews from other users play an important role, especially before purchase decisions and test phases. Is there a way to control your own online reputation? You also have the opportunity to actively work on your reputation on social channels. You can find out what you should bear in mind when approaching your users on the social web and what the taboos are in our blog article: Building trust in social media - this is how it works.

Paid tools such as SocialHub and services for managing your own online reputation provide an overview of all channels, the messages received, comments, reviews and mentions, but the costs should not be underestimated, especially with SocialHub. Therefore, consider whether it is worth spending money on a costly tool or whether you would prefer to invest in software that allows you to bundle and manage several hundred review platforms.
But what can the tools and services do in detail? Saving time is a crucial factor. While the former can track down and point out recommendations in stories, posts and comments, management services help to display social star ratings on your own website and in Google search, for example. This increases your visibility online, and potential new customers immediately recognize that your customers' opinions come first. But technology alone is not enough to promote or control digital reputation in social networks.
How can I best use social media reviews for my business?
Your customers are invaluable for your reputation on the web, because what could be better than satisfied customers as advocates? In addition to using a management tool, it is important to respond appropriately to reviews and comments from followers. Social media channels are first and foremost communication platforms; actively engage in an exchange with your customers. Regular presence in the form of postings, replies to comments and reviews, and quick responses to support issues help build a community.
Respond to mentions: Is someone tagging you or mentioning you, your product or company in a post, story or article? Like the account and post or leave a comment or in turn share the post in your story or on your account. Think beyond individual channels, too. You can also use your various social media channels to increase your reach online and, for example, share on Facebook that someone mentioned you in a post on Instagram, so not only do your users on Instagram find out about it, but you share with all Facebook followers, as it were, that you can also be found on Instagram. Important: Write personally and go for emotionality.
By monitoring and responding to posts with mentions, you'll not only learn more about your company's external image, but additionally increase interaction on the company profile. Some social media management tools also offer the ability to search for posts that address your company name or product, but don't link to you. Again, be sure to respond.


Reply personally: People often quickly respond with, "Best regards - your team from *company name", but it becomes more personal when you have a real contact person. Consider your followers as customers and potential clients. Every exchange with them is as valuable as a customer contact - so in the end it seems quite natural to end messages with a name, even on Facebook and Co..


Link your customer service directly to your social media channels: It quickly looks unprofessional if you can't help or always refer to the email address or phone number of the customer service department. Integrate support directly and, for example, assign questions and concerns directly to customer service employees.



Establish your own hashtags: The platform Instagram, in particular, has not only shaped the use of hashtags, but has also played a significant role in driving them forward. This is because search on Instagram works via hashtags. This means that you add a photo or video to your post and use several appropriate hashtags in the post description. These can be references to your company headquarters, product names or current trends.
The search function will then include your post when a user searches for a specific hashtag, which in turn increases your visibility on social media. Famous hashtags currently are #love, #instagood, #fashion, #happy, but also #blogstyle and #motivation. Find hashtags that fit your product or service, or design completely new ones and circulate them among your followers. You can get feedback more easily by establishing your own hashtags on Instagram or Twitter.
To do this, you should first select a hashtag that is as unused as possible; a simple hashtag research is recommended for this. Enter the hashtag to test on Instagram and see what results you get. Then encourage users to use the hashtag in their own posts with a simple post, a giveaway, or a photo campaign. This way, you can stay on top of things and give users the opportunity to increase their own reach.

Should I actively ask for reviews on social media?
Actively asking for feedback also carries risks. What if there is a hail of criticism or even a shitstorm? If you actively work on your reputation, you can recognize critical situations early on, master them skillfully and even draw positive benefits for your own reputation from them. Did you know that consumers trust companies with only 5-star reviews less than those with 3.5 to 4.5 stars?
With tools like ProvenExpert.com, you don't have to fear the effort either. With 15 minutes a week, you can manage surveys, invite your customers to them, evaluate reporting and results, and respond to reviews and feedback. Whether in after-sales emails, surveys, or after a customer meeting, asking for feedback is always a good idea. This strategy also works on social networks. There are different ways to actively ask users for reviews in social channels:
Via private message: Found out that a user has commented on your product? Ask if you can use the post on your profile. In addition, you can send along a link for a points rating via Facebook (www.facebook.com/ pagename /reviews) - regardless of whether you are currently on Facebook, Twitter, Instagram or YouTube.
A points review is especially worthwhile if you use a service like the ProvenExpert review widget: The program bundles your customers' feedback from all possible review platforms, ensuring that Facebook reviews appear not only on your Facebook profile, but also in Google search or on your own website.



In a post or story: Companies can also call on followers for a review via a post or story. The rule here is: the more unusual, the better. For example, if you have more than 10,000 followers, you can link directly to a review page or survey in an Instagram story. If you want to take action within the social network, you can conduct a survey directly in the story.



Our tip: Keep your customers' voice visible for eternity on social networks.
Share the result with your followers later and don't forget to save the story in the highlights - this way it remains permanently visible and so do the reviews.
Be connected with your target group
If reviews on social networks are important to you, you should interact with the community. The better a company is connected with its target group, the higher the chance of receiving feedback in the form of likes, reviews, comments or star ratings. To connect with your followers, it's important to regularly respond to their posts and leave comments: From simple thank-yous to helpful tips or direct questions for opinions on products, product developments or similar.


Video and photo campaigns also help to encourage customers and followers to provide positive feedback. Companies in the beauty, fashion and lifestyle sectors in particular use such measures for their own purposes. Prompts such as "Show us your style on Instagram", for example, encourage customers to post pictures of their outfits on social networks. But the company itself, your philosophy or employees performing services are also suitable for video staging on social channels.


Should I reward reviews?
Using raffles as part of nurturing and building your community is a good idea. Many followers follow business pages on social media hoping to enter interesting sweepstakes or promotions that way.

Thank people for reviews, respond to comments, but a targeted reward for reviews is not necessary and could be quickly misunderstood by your users.


Our tip: Value reviews in social channels properly!
You don't necessarily have to give away a prize. If you have a company profile with a high reach, you can reward customer reviews with reposts. To do this, post a follower's review with a mention on the company profile.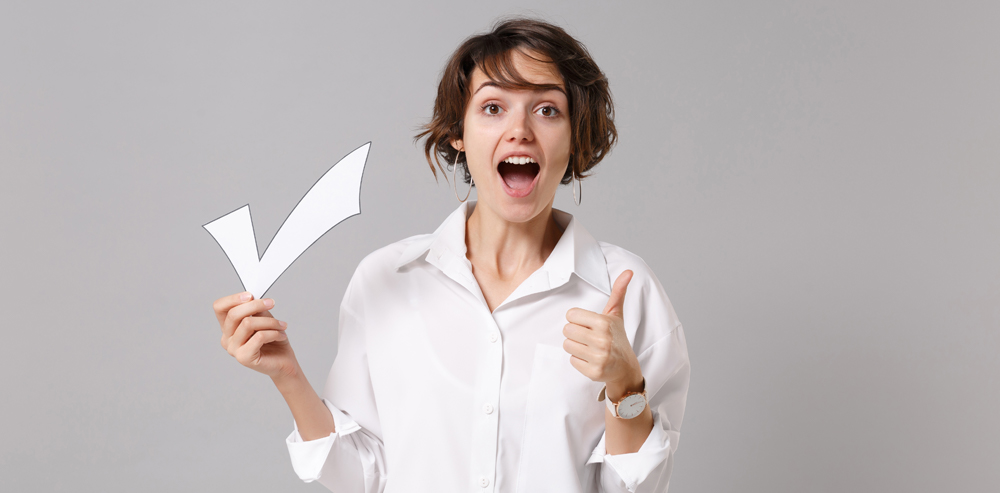 Checklist: Dos and Don'ts - The right way to deal with social media reviews
Being active in social channels pays off: If you network with your target group, stay in touch with them, listen and respond to comments, queries and the like, you stand a good chance of gaining a top reputation, and not just on social media. The effect radiates to your entire online reputation.


Social media monitoring: Actively tracking mentions and reacting to them is the be-all and end-all. A social media management tool is helpful here. But you also need to maintain and build up your community. Be present on the channels. Set up official availability times and out-of-office messages that are sent out during times when your channels are not officially manned.


Actively ask for reviews: The logic of after-sales emails also works in social networks. Don't be afraid to ask satisfied customers for feedback on social networks, too. Your good work can be seen, even on the social web. And if you do get criticized, our first aid kit tells you what to do.


Build, nurture and reward community: Your followers are primarily looking for news and updates. What's new about your product and the company? Your exchange with the community is crucial, as are appreciative responses to critical comments and feedback. Respond to mentions, repost, retweet and also like the posts in which you are mentioned by customers and followers. Don't forget: raffles, photo campaigns, and contests also help build and maintain your digital reputation.


Netiquette and the correct form of address: Every social network invokes the so-called rules of netiquette in its dealings. Insults, racist remarks, discrimination, defamation are not etiquette. But even too flippant or casual answers are difficult on company profiles. Always reply in a friendly and polite manner, address the addressee directly by name and, importantly, also end the message by mentioning a name. A small tip: In social networks, people use first names. Exceptions can be direct messages in the professional networks Xing and LinkedIn.


Mediation or deletion: When does too much criticism become critical? Answering the question is not that easy. On most review platforms, you can report defamatory reviews and have them deleted or hidden. Criticism is welcome, but you should defend yourself against slander, insults and false claims, and reviews that are deliberately worded negatively to hurt. On social media, it's not so easy. You can ignore or delete messages to you, of course. For public comments, you can make use of the "hide" function. Delete only in extreme emergencies, because even the disappearance of negative messages can be noticed and users then often interpret this as censorship, which can again raise negative voices.
Want to learn more about reputation? Our blog post provides further exciting insights.