New: Personal salutation for your review invitations
Published: March 15, 2018 | Last updated: April 5, 2023
Insurance company, photographer or pop-up-store - there's a suitable salutation for each of your review invitations


From "Hi"to "Hello"to "Dear Sir or Madam" or "Ahoi Matey", there are many reasons why selecting the right form of address for your customers is important. The age of a customer can play a role, and the industry for your business can also dictate what tone to use. In the area of insurance or finance, for instance, "Hi" can come across as too informal - but for a skateboard shop, it's too conservative.
Whether you want to adhere to your branding concept or focus directly on your customers, the choice is yours. We've listened to your requests and added a new function that lets you customize your communication for each and every one of your customers.
You say hello...formal or informal?
Until now, the preset greeting in the invitation function was, admittedly, rather impersonal. "Hello" simply doesn't cover all the bases when you're expanding your customer base. In respond to customer requests, we've expanded the selection of forms of address, so you can pick the optimal one for your needs. Read on for our five essential tips on the new feature:
1. The simple "Hello" has been added to with several variations in a drop-down menu.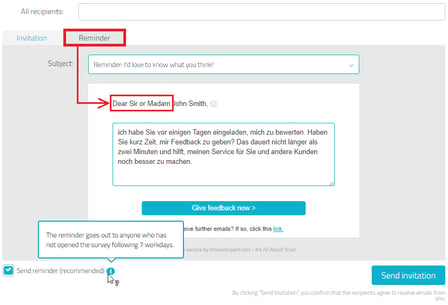 2. The new text field "Enter a title" allows you to create your own form of address.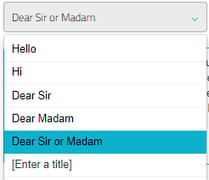 3. The form of address you select will then be used for these surveys, until you change it.
4. The custom form of address you select will also be used for the reminder function.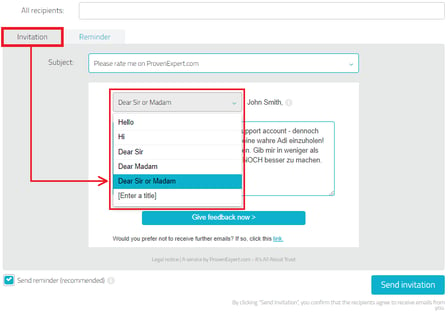 5. Also, if you are choosing the more formal option, make sure you choose the right option for the client's gender, i.e. Dear Sir or Madam. Subsequently go through the process again with the opposite gender salutation.
Got more questions about what form of address to use? Don't hesitate to get in touch with us. We're looking forward to your feedback!
Don't have a ProvenExpert profile and want to know more about the advantages of customer reviews for your business? Register now for free and start collecting customer feedback in under three minutes.
Want to take control over your reputation? Manage your reviews with ease on ProvenExpert now.