New: Personalized Greetings for Survey & Reviews Requests
Published: March 15, 2018 | Last updated: June 28, 2022
Whether you're an old school insurance company, a creative photographer or a hip pop-up-store - there's now a suitable salutation for each of your review invitations


We've listened to your requests and added a new function that lets you customize your communication for every one of your customers when inviting them to review. From "Hi" to "Hello" to "Dear Sir or Madam" or "Ahoy Matey", you now have the option to personalize your greetings for customers.
"Hello" – our only greeting until now.
Until now, the preset greeting in the invitation function was, admittedly, rather impersonal. "Hello" simply doesn't cover all the greeting styles for a diverse customer base. You have highlighted this to us, and in response, we've expanded the selection greetings so that you can pick the optimal one depending on your customer and the context. Read on for five tips on the new feature:
1. The simple "Hello" has been added with several variations in a drop-down menu.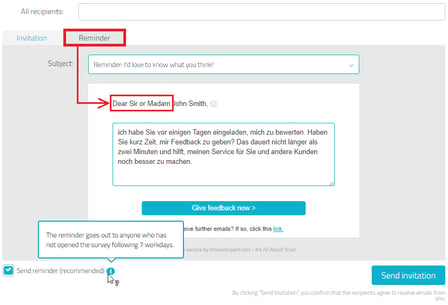 2. The new text field "Enter a title" allows you to create your own personal greeting.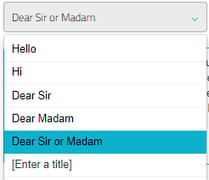 3. The custom greeting you select will then be used for future surveys until you change it.
4. The same greeting will also be used for the reminder function.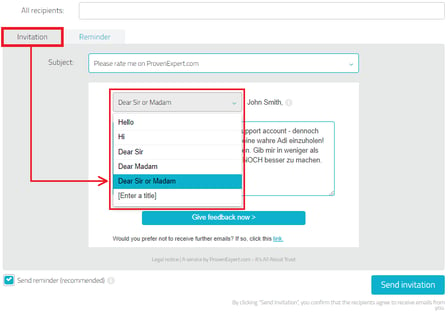 5. If you choose the more formal option, make sure you select the right choice for the client's gender, i.e. Sir or Madam.
Don't have a ProvenExpert profile and want to experience the benefits of collecting customer reviews and review marketing? We're currently offering 30 days premium subscription for free here. Register now for free and start collecting customer feedback in under three minutes.
Got more questions? We're looking forward to hearing from you! Don't hesitate to get in touch with us.
Summary
We listened to your feedback and have introduced several variations to greet your customers. Now you can adapt your survey and review requests to your audience more accurately.
Want to take control over your reputation? Manage your reviews with ease on ProvenExpert now.