Nina Matthies: Using Authenticity as a Customer Magnet
Published: May 13, 2019 | Last updated: June 28, 2022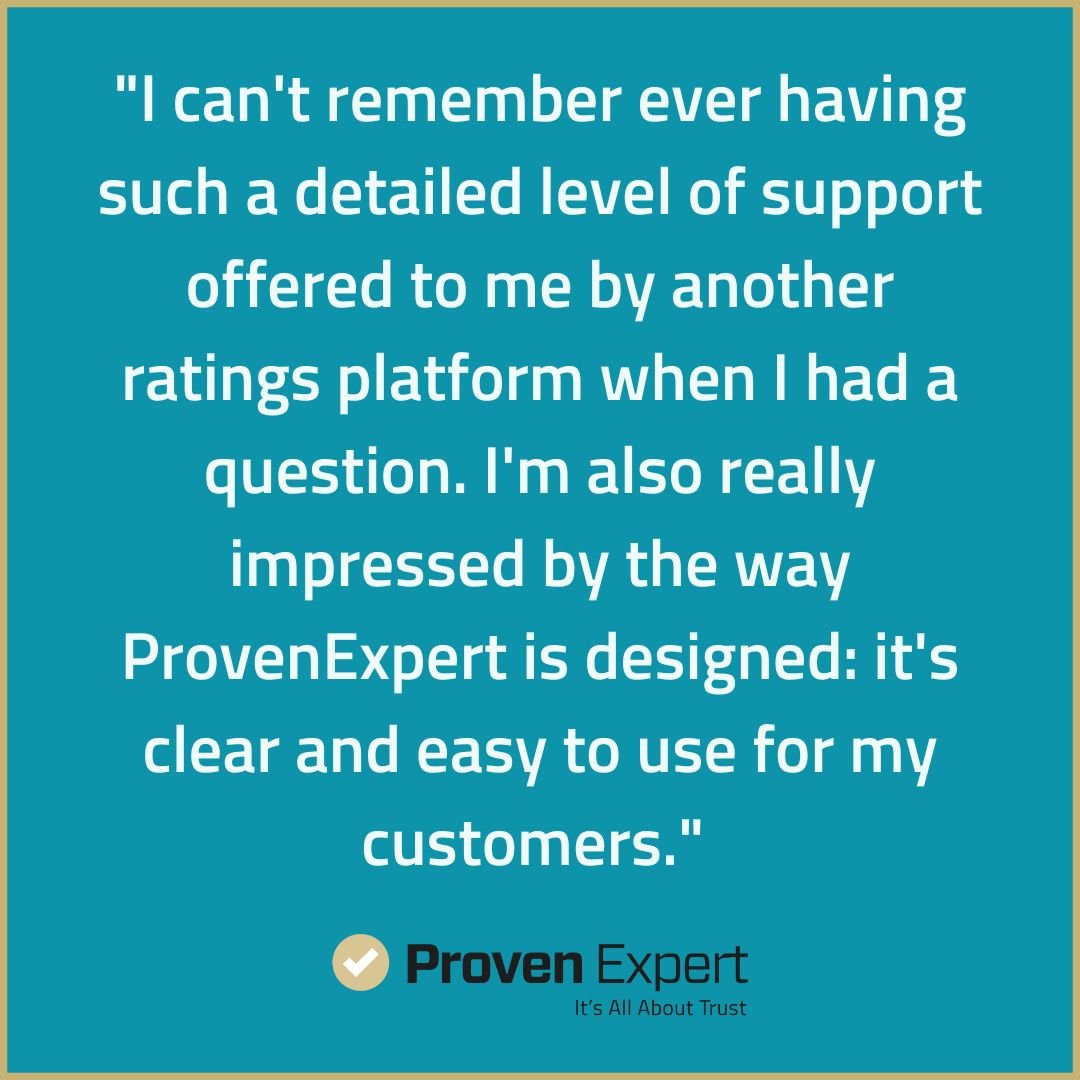 ProvenExpert user interview: Reflection as the key to success. Insurance and finance specialist Nina Matthies on how honest feedback helps her agency improve customer service.
As the largest insurance firm in Germany, Alli Read more here on the importance of customer feedback.
Allianz offers customers a wide spectrum of insurance plans and products. With high quality comes high demands – each plan should be tailored to a customer to meet their individual requirements. Nina Matthies, the eponymous Allianz general agency owner in Magdeburg, Germany, offers precisely this kind of customized service. To fulfil her clients' wishes, she needs open, honest feedback.
As a consultant, she knows that positioning oneself the right way in the market is the best way to reach a target group ahead of competitors. And the competition from other insurance agencies in Germany is particularly stiff. In our blog, Nina Matthies discusses why she's decided to switch rating platforms and how this has created added value for her business.
Have you always worked with customer feedback?
Before, I asked customers to provide me with written references, which I then published online on my website. Until now, I was also using eKomi, but I find that it lacks certain features that would enable me to present a reliable ratings profile. That's why I started trying out ProvenExpert two years ago.
After a trial period, I was very satisfied and found using the platform to be really successful. I'm on Facebook too, of course, and have collected Google ratings too.
Read more here on the importance of customer feedback. We are also currently offering a 30 day free trial! Register your profile here.
What are the important features your business needs to stand out from the competition?
It's the service that an agency offers that makes it stand out. In terms of product, I can't really compare my agency with other Allianz agencies, since I don't have a unique selling point, per se. Customers can't try on, taste, or smell our products, unfortunately. They can only place their trust in us – and that's most likely to happen when I offer high-quality service through my agency.
Why did you decide to use ProvenExpert?
The decisive factor for me was that customers are able to rate me even if I haven't asked them to. In the end, that's what creates a certain level of expertise. If I only receive feedback from customers after I personally request it from them, it's not a true reflection of how things stand. In general, you ask for a review when you know it will be positive. It's in our nature, and customers know that too.
How important is criticism to you?
Constructive criticism is always helpful, I find. Something I always say when talking about feedback with customers is: If we're good, spread the word. If we're not, please let me know, so that I can change things, and prove that I've earned a good review."
How has your experience with our tool been, so far?
My experience of using ProvenExpert thus far has been overwhelmingly positive. I've received many reviews that were unexpected and they were all positive too, which I was delighted about. I realize now that many of my customers are very satisfied with my service and want to rate me.

Having the chance to customize the ratings criteria is also the right way to do things, for me. Querying customers on price is of no benefit to me – a customer's satisfaction with the price of an insurance plan cannot be equated with their satisfaction with me as an agent. Every customer receives our service for free, after all.
This works the other way round too, as unhappiness with price does not necessarily mean a negative rating for the service that we provide. The ability to adjust the content of the ratings criteria to my needs is brilliant.
How do you go about collecting feedback?
That depends on how I communicate with my customers. Customers that I communicate with on WhatsApp receive an invitation link for feedback via WhatsApp, others receive a link via email. The response rate to invitations I send out is extremely high. I can also create a QR code on my ratings profile and adjust it in different ways for customers.
How have things changed for your business since you started using ProvenExpert?
At the moment, I can really tell that customers are approaching us more and more when they're looking for a new insurance consultant. I'd put that down to the visibility of ProvenExpert star ratings in Google search results.
Anyone searching for Magdeburg Allianz branches will find over 20 agencies – so I definitely think that my star ratings and ProvenExpert profile have helped mine become more visible.
What makes ProvenExpert different to other rating and review platforms?
The service. I can't remember ever having such a detailed level of support offered to me by another ratings platform when I had a question. I'm also really impressed by the way ProvenExpert is designed: it's clear and easy to use for my customers. The option to integrate reviews and ratings from other platforms is helpful, since I only need to use a single profile where I can view all customer feedback at a glance. This then provides me with an overall score from all these aggregated ratings. But it's only the ratings and reviews on ProvenExpert, Facebook and Google that are relevant, really.
Summary
Thank you Nina for sharing your fantastic feedback and explaining how ProvenExpert has helped your business to:
Collect and aggregate customer reviews in one easy to view profile, offering your business a chance to reach new customers, and your existing customers a voice to share their own experiences.
Using ProvenExpert Seals can instill a sense of trustworthiness and show new customers why they should choose your business over the competitor.
The ability to see when a review was left can help you to reply in a timely manner and protect your online reputation from risk.
Want to take control over your reputation? Manage your reviews with ease on ProvenExpert now.