Trustworthy e-mail marketing: Here's how it works
Addressing customers by email is still a promising conversion tool in the modern media age. What does trustworthy email marketing look like? ProvenExpert reveals what is essential.
Overview: Direct marketing with e-mails
In the age of social media, e-mail marketing doesn't sound particularly sexy or modern. Several scientific studies show that despite digital innovations in the social web, e-mail marketing is still very important in marketing practice. Speaking directly to the customer using the good old electronic mail has particular advantages: A mailing can be set up quickly, sending is inexpensive, the recipients are usually interested in the messages thanks to double opt-in, and there are extensive analysis tools for measuring success. In general, e-mail marketing can be divided into different categories. There are so-called stand-alone emails and email newsletters. The message can be sent personalized or as a mass mailing - the latter is now considered rather unprofessional. The content can have a very strong advertising character - comparable to printed leaflets - the big difference: the offers are tailored to personal interests. While advertising mailings were dominant for a long time, they are increasingly giving way to mailings with journalistic-style stories: mailings with added value for the user, which do not always promote direct purchase intentions. Instead, the focus lies on customer loyalty. When the nearest competitor is just a click away, regular customers are more important than ever. Necessary condition for all direct marketing measures mentioned is the consent of the recipient ("double opt-in").
Email marketing: trust based on relevant content
Before choosing a specific topic, these questions must be answered: What are the company and brand goals? Which concerns of the company, the product or the service are particularly interesting for the target group? With answers to these questions, an e-mail marketing strategy can be developed. Readers always expect new content, but presented in recurring formats. This increases the memorability and allows a more time-saving orientation. Examples of this are company news with a look behind the scenes, product announcements with a storytelling vibe, pleasant occasions such as birthdays, anniversaries and holidays as well as customer-specific events or the future expansion of the range of services - announced by guide texts with added value information from these areas. Further occasions can be, for example, that a certain time has passed since the last product purchase (one year), combined with a customer satisfaction survey. Customer loyalty can be positively affected and strengthened by such meassures. Special successes are also popular reasons for newsletters or stand-alone mailings: the millionth customer, the implementation of a trust seal or the support of a charitable organization. The frequency with which email recipients receive messages depends on the topic and target group. A minimum pause of two to three days between mailings has proven to be a beneficial approach.
Our newsletter is called ExpertLetter and keeps you up to date on a regular basis - it' all about online marketing and reputation.
Attract attention with AIDA
The famous AIDA model (Attention, Interest, Desire, Action) also works for email marketing: with the right effects, the attention and enthusiasm of the reader is guaranteed. Animated GIFs are just as helpful as multimedia elements. But be careful: Videos that only look nice and do not convey any useful information will annoy the audience. Because one thing is scarcer in emailing than in hardly any other place: time. Recipients do not skim a mail longer than 10-12 seconds - provided the subject line was punchy and relevant enough that they opened the mail. This also means that nobody wants to read emails that are too long. On the other hand, short texts can give the impression that added value is missing. The layout of the mailings must match the corporate design and branding. Only then a recognition value is created. But here, too, caution and moderation are required. Always ask yourself the following questions when designing: Is the reader unnecessarily overwhelmed by too many colors and shapes? How does the graphic email design affect the legibility of the texts? Does the call to action button fit the content? Every mailing must have a goal - and that goal must be clear to the recipient in a matter of seconds. The principle of the inverted pyramid has been learned: header, hero image, text and button with a call to action. These must tell the reader exactly why they should click. The time of sending the email has to be adjusted to the target group. Analytics data and/or A/B testing provide information about the perfect timing.
Build trust? No Spam!
In order not to get lost in the maze of information, mailings must always be something special. The focus should therefore be on the added value, the customer benefit. In other words: No Spam! Ideally, readers or recipients feel affected individually. What looks too much like advertising is quickly ignored. This starts with a personalized sender, who can be contacted directly in case of queries - at least as a "human" sender address - and is even better when named in the binder with first and last name, function, picture and contact info. Decisive for the opening rate of an email is the subject line, which arouses curiosity, but at the same time does not promise too much. A subject line that is too flashy or bold means a massive loss of confidence. Some programs send an email with clearly promotional subject lines right past the inbox - into the spam folder. Addressing the user personally by name in the email or newsletter is highly encouraged. "Dear Ladies and Gentlemen" or "Dear Reader" immediately reduce the motivation to continue reading.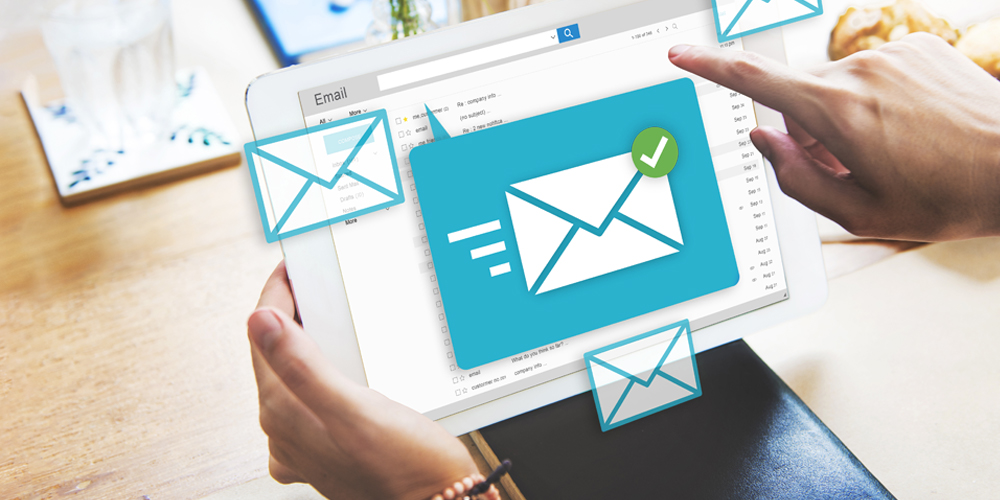 Customer and service orientation
E-mail newsletters should ideally be easy to subscribe to and unsubscribing should be equally straightforward. Emails that focus on direct added value demonstrate customer and service orientation. An example is information about new opening hours. Today, readers use an ever-increasing variety of digital devices. This is why emails and newsletters must be tested on smartphones and tablets in terms of display, legibility and clarity. Furthermore, an uncomplicated function for forwarding newsletter information via social media is recommended.
Tools and software
To ensure that success indicators such as opening rate, Cost-Per-Click and Cost-Per-Sale are correct, the underlying data must be sound. The dispatch tool must be able to play out and segment personalized mails - that means addressing specific user groups separately, namely on the basis of their interests. Tracking data, for example from Google Analytics, or powerful but easy-to-use mailing tools such as MailChimp can be helpful here. MailChimp is one of the world's most popular email marketing tools, with many options for planning, automating, executing and analyzing email campaigns. Various email templates are available for this purpose and the performance results can be analyzed in comparison with competitors. Other recommendable providers are Rapidmail and Sendinblue, which offer professional design and analysis options as well as support in complying with the legal regulations. In addition, the email tool Lianamailer offers the option of integration into various CRM systems. If you have found the right tool for you, are clear about the design and content of the e-mail and know who you want to address and when the best time is, you have created a promising basis for actively working on your own reputation.
Try ProvenExpert for yourself for free!