Creating Organic Content in your ProvenExpert profile: SEO guide part 3
Published: August 26, 2015 | Last updated: June 22, 2022
The third part of our SEO guide for better visibility for your rating profile - is creating organic content. Unique content attracts search engines - find out more information in this article.
For years, the popular Twitter hashtag #contentisking was a punchline that has often been preached on marketing blogs, and it has had an extreme agenda in SEO strategies. This phase was first used in connection with cyberspace in the late 90s by big media moguls like Microsoft, Google, or Viacom. In 1996, Bill Gates published a visionary essay entitled "Content Is King", predicting that content would dominate the online market.
And with this, content did become the currency of a website. Search engines and especially users had then eventually had enough of the SEO overdose that they were getting from many websites: From sentences full of keywords, to backlinks generated for money, this made many sites not just challenging to read but especially uninformative and generally frustrating, when the reader is trying to find a suitable answer to their search question.
In 2012, for example, Google updated its search engine. This change spread quickly through the online community under "Google Penguin". This update aimed to penalize spam websites by banning them from high-ranking spots.
Spam sites were understood to be sites that went a bit over-the-top with their keywords, bought links out of convenience, or copied content from other websites. Those producing exciting and original content for the reader were ranked. "Organic Content", exactly like organic food, describes a naturally evolving product.
On your review profile, you can add not only insert your text content, but you can also create organic user-generated content using your customers' reviews and testimonials.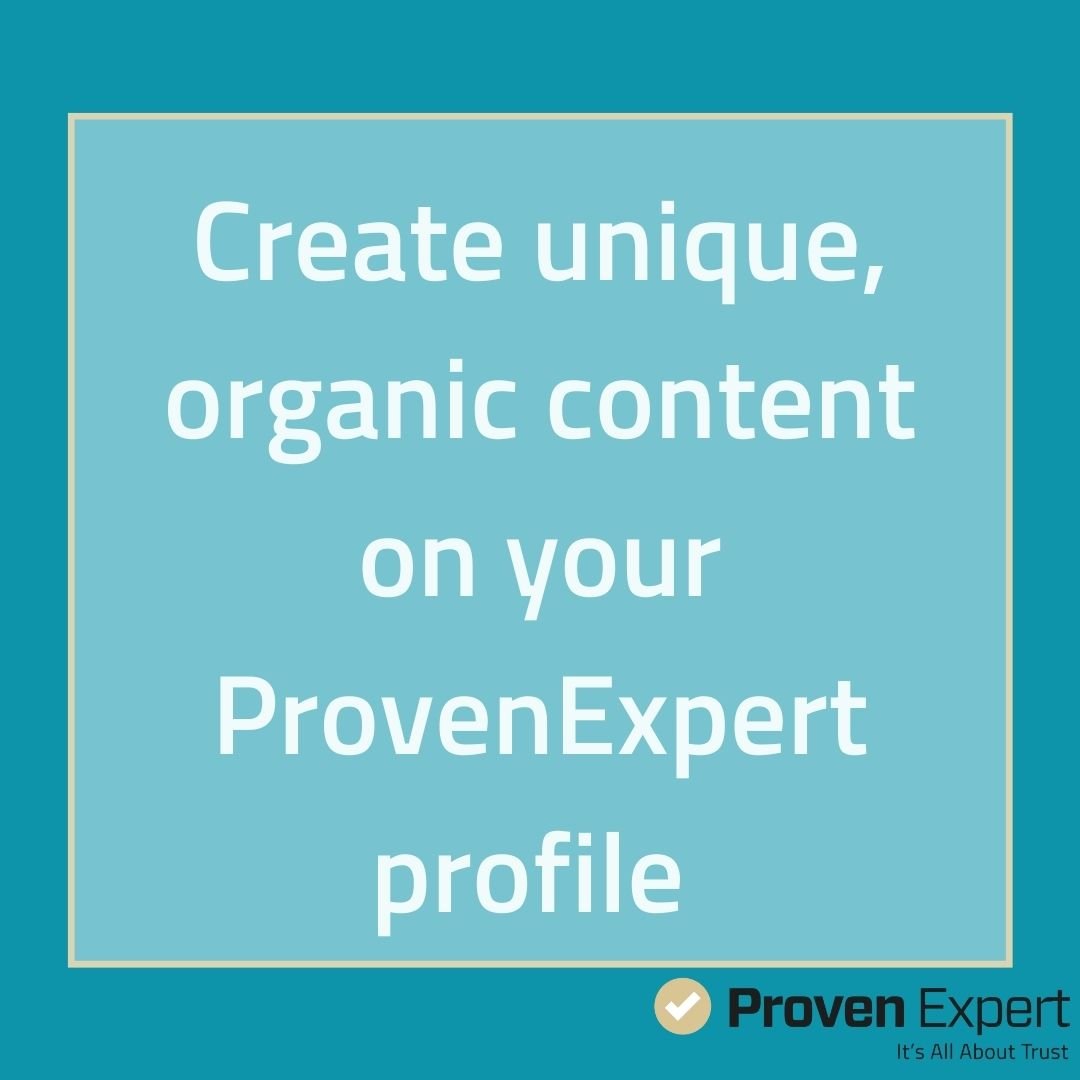 Create unique, organic content on your ProvenExpert profile
In your description text

As described in detail in the article 'Five tips for your review profile.', an individual and detailed description text is a big help towards good profile visibility: Here, you can use keywords to indicate to the search engine which content can be found on your review profile. An individual and high-quality text is attractive to the reader and to search engines: Originality indicates that the information in the text is new and is therefore worthwhile to the reader. Websites with "organic content", i.e. content, that hasn't been copied, will thus be rewarded with higher visibility in search engines.

Complete your whole review profile

Use every fillable field on your review profile. Fill out your contact details sufficiently, link to your website and use the field available, and use the field offers not only to create content, but also to incorporate keywords.

Acquire customer feedback

New content is added with every new review on your review profile: Even if this only means a star rating without a testimonial, the name and basic details are still visible. With a testimonial, you will receive a complete and original text added to your review profile. You should continually gather customer feedback to fill your review profile with new content. Regular, new content on your site indicates to search engines that there's always helpful information to be found on your profile – which will then be rewarded with a better ranking.
Tip:With the new standardization from ProvenExpert, reviews and their testimonials are displayed at the very top of the public profile view. In this way, interested customers can immediately see testimonials - no longer shortened but in their entire length. It's also beneficial for search engine optimization if the reviews and testimonials at the top of your review profile are constantly updated.
Tip: Link to your review profile on websites, in your email signature and share it regularly on your or your company's social media presence. With this, you can draw attention to your review profile and collect customer reviews without any hassle.
Summary
Today, search engine optimization means optimizing your website for the reader and not for search engines: If you include keywords, incorporate links, or fill websites with content, you should always base this on what is genuinely important and interesting to the reader.
Even if you pay attention to as many factors for search engine optimization as possible and follow them with strict discipline, this doesn't guarantee that you'll end up at the very top of the search results. As a guideline, keeping the focus on the reader's interest is an excellent way to achieve this.
Three places you can place organic content in your ProvenExpert profile are:
In your description text
Every fillable field on your review profile
In customer feedback
Want to take control over your reputation? Manage your reviews with ease on ProvenExpert now.