Respond to Negative Reviews on Yelp, Facebook, Glassdoor, Amazon & Trip Advisor: How-to Tips
Published: April 1, 2022 | Last updated: May 31, 2022
There are many popular websites that contain sections for reviews. And in some cases, companies host reviews on their own websites. Below are multiple instances of reviews on various websites, and guidelines for dealing with each.
How to Respond to Negative Yelp Reviews
As a website specifically created for reviews of businesses, Yelp stands out as being one of the more high-profile outlets to deal with as far as reviews.
If your business isn't already listed on Yelp, you should be proactive and register it yourself. If your business is listed, you should claim it as soon as possible (there should be a button visible in the listing for your business with the words "Claim This Business"). If for some reason it's already been claimed, email Yelp, and explain you're the rightful owner (you may need to provide some documentation of this).
Starting a number of years ago, Yelp was accused of blackmailing companies to maintain good reviews by forcing businesses to advertise on its own site; some businesses that didn't advertise say that they saw their positive reviews vanish. This has been an ongoing issue with Yelp that has resulted in multiple court cases and even a documentary film, but as of this writing, there hasn't been a ruling against Yelp.
On the other side of the fence, some small business owners have been accused of paying people to write fictitious reviews and have been caught by Yelp doing so. Yelp uses proprietary methods and technology to prevent this.
Here's an example of a negative review on Yelp. Note how the owner:
Responds by addressing the reviewer personally

Apologizes

Explains that this experience was not typical
Here's another example of a negative review on Yelp, this time for a gym.
Note how the owner responds and:
Addresses the reviewer personally

Apologizes

Explains that the business cares a lot about its reputation

Offers to take care of the problem personally

Provides private contact emails and a phone number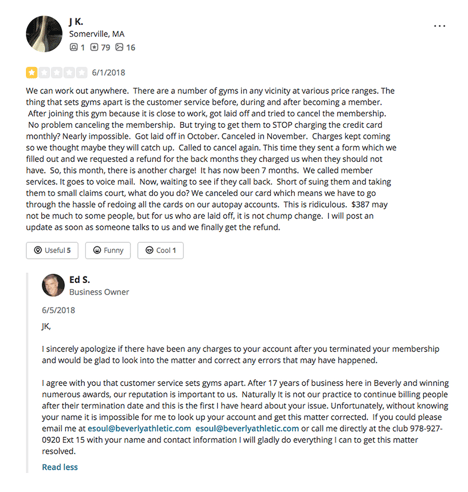 How to Respond to Negative Facebook Reviews
Many businesses have Facebook pages where "Reviews" are a prominent section. Unlike Yelp and other review websites, customers can simply "recommend" a business or not (rather than assigning a star-rating). A business gets an overall rating of up to five stars based on different factors, such as the average of its "recommended" or "not recommended" votes. A business can respond to a negative review in the Comments section below the review (and the customer can reply to the response, and the business can reply to the reply, and so on).
Here's an example of a moderately negative review of a hotel on Facebook (she still gave the business an overall recommendation). Note how in its response, the hotel:
Addresses the reviewer personally

Apologizes

Tells the reviewer how it will address the problem

Invites the reviewer to stay again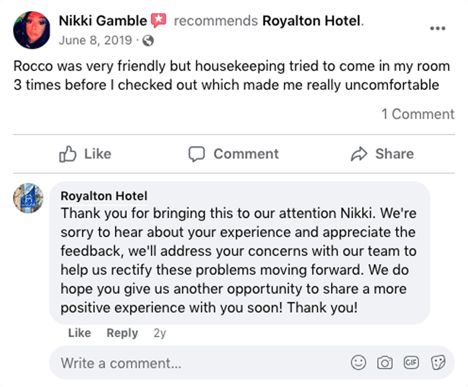 Remember that on Facebook, there are a number of different ways someone can leave a bad review; they're not just limited to the Review section — they may also be able to make a post on the business's page and/or leave comments on someone else's post. If your company has a Facebook page, it should be aware of these possibilities and should be prepared to respond accordingly in each case. Here's an example where a customer left a negative review in a Comment instead of in the Reviews section (they used the phrase "the local book store" to indicate the business in question). Note that even though the business responded, the original commenter replied with another negative remark; in this case, the business can reply to the reply. In many cases, the original commenter will weary of continuing to respond; in this case, it's possible that the business "surrendered" too soon: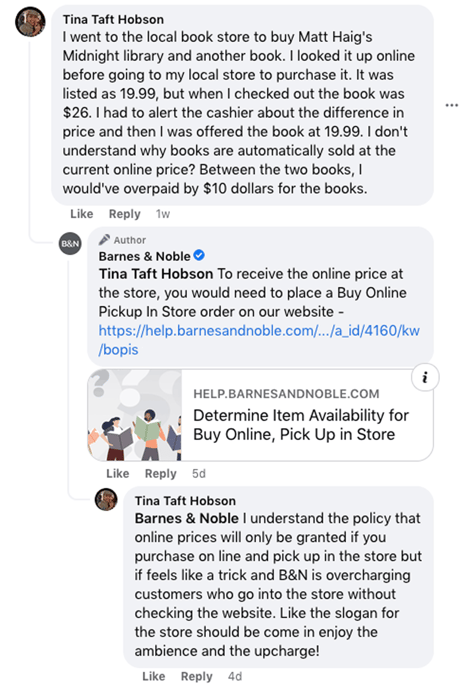 How to Respond to Negative Glassdoor Reviews
Glassdoor is a website where people can leave reviews of companies, along with searching for jobs and comparing salaries. Current and former employees may leave reviews of their employers under their own names or anonymously. Glassdoor has guidelines for reviews, but it's possible that users won't always follow them, just as it's possible that Glassdoor won't police all reviews.
Companies are able to respond to negative reviews. All responses should be carefully considered before being posted, as they can be read not just by the original reviewer, but by other employees, prospective employees, members of the press and competitors. Many complaints can be quite specific to an individual, department, project or time period. Also, reviews can be quite subjective and/or a matter of opinion. Nonetheless, serious accusations of racism, sexual harassment or other criminal behaviour should always be responded to.
It helps in terms of perception if the person responding holds a relatively important position at your company (the founder or the CEO or the Director of Human Resources, for example). This person should use their name and their title in the review response. Ideally, all important points brought up in a review should be at least discussed, if not addressed and/or remedied. Be sure to accentuate the positive aspects a reviewer has shared, and show a desire to improve in areas where there are deficiencies.
Here's an example of a negative review left about a company on Glassdoor. The reviewer notes how they are still employed at the company, but they have plans to leave. Observe how the responder (someone in "HR Leadership"):
Does not attempt to address the worker's concerns or discuss them individually (which is a mistake)
But does state the firm is "evolving" as a company
Thanks the reviewer for their feedback
Invites the reviewer to communicate privately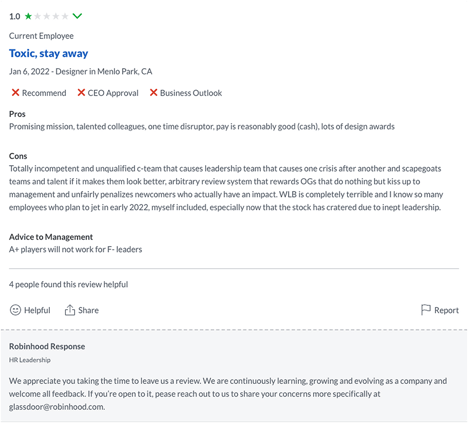 How to Respond to Negative Amazon Reviews
Amazon sells millions of products. Every customer is able to leave reviews for their purchases. Amazon maintains a list of best practices to maintain positive feedback and high ratings in reviews.
As of December 2020, sellers can no longer leave a response to a negative customer review on Amazon, but they are able to contact a customer for any 3-star, 2-star or 1-star review. The initial response is a simple choice that allows either a refund or a replacement item to be sent to a customer, or a message to be sent instead. Remember that even if you provide a refund or a replacement, you should still follow up with the customer to try to make sure they're satisfied.
In the alternative case, if you choose to send the customer a message, what gets sent is templated text. If the customer replies, then you'll be able to converse directly with them, and it's possible a more optimal, personalized solution can result this way.
Here's an example of a negative review on Amazon. If you're logged in as the seller, you should see the option to contact the customer in the upper right for all one-star, two-star and three-star reviews (you can also access customer reviews via the "Brands" pull-down main menu selection on the Amazon "Seller Central" page):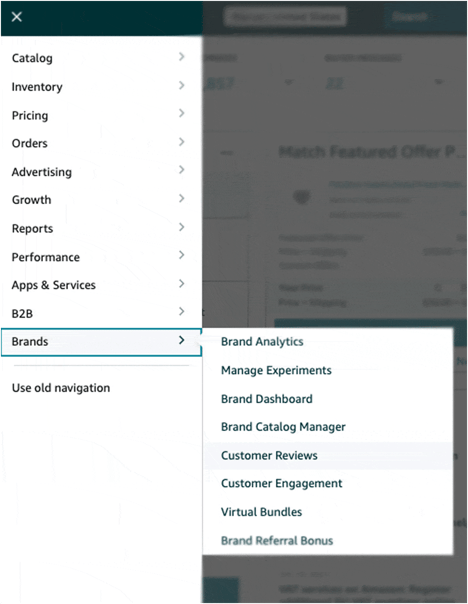 Note that not all customers allow sellers to contact them. If a customer has this option switched off, you will see a note of this in the upper right of the review. (If this is the case, and you feel like the customer made an error or is somehow otherwise incorrect in their assessment, the best thing to do may be to try and find a review from someone else who has expressed the same sentiment and respond to them instead):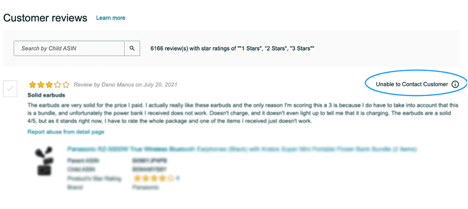 But if you do have the link available, you'll have the option to refund the customer, replace the item or send a message:

Be careful when choosing to replace an item; if the negative review was due to a shipment not being received or being damaged, it's possible the same thing may happen to the replacement as well. For this reason, it may be wiser and more expedient to simply offer a refund, rather than a replacement.
If you choose to offer a refund or a replacement, this is the screen you will see: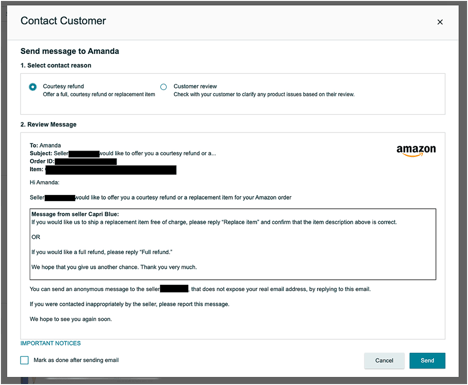 If you choose "Customer Review," you'll get this box where you can send a templated message to the customer. While this message is pre-written and uneditable, every subsequent message can be customized: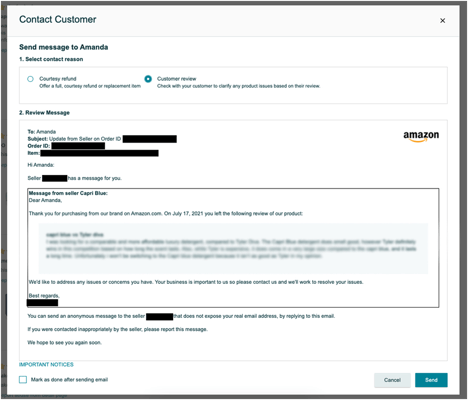 In short, the step-by-step process looks like this:
Determine if the best course of action is to send a refund to a dissatisfied customer (replacements are not recommended).

If a refund is issued, try to follow up with the customer to make sure they received it and are satisfied

.

If a refund or replacement is not issued, respond to the customer's review with a message and see if you can resolve their issue or otherwise satisfy them.

Try not to have much back-and-forth conversation with a customer; keep communications brief.
How to Respond to Negative TripAdvisor Reviews
TripAdvisor is a travel website that functions much like Yelp, but is aimed at travelers. Users review hotels, restaurants, vacation rental properties and tourist attractions, among other businesses. Assuming your business is registered and verified on TripAdvisor, you're able to log in and respond to individual reviews via the Management Center (accessed by clicking on your business's icon in the top-right corner). Reviews can be filtered by date, title, rating, language and response status.
Here's an example of a negative review on TripAdvisor. Note the responder :
Thanks the reviewer

Apologizes

Asks the reviewer to get in touch privately
Want to learn more tips? Get the Free Guide here and fix your bad reviews today.
Want more tips? Get 60+ Page PDF to Fix Your Bad Reviews