5 tips for a better online reputation
When your reputation precedes you: how to get control of your online reputation.
With the advent of digitization, a company's reputation can be influenced by millions of people. This affects how your company is perceived, and has an long-term effect on your online reputation.
What exactly does online reputation mean?
In short, reputation means how a company is seen by all its stakeholders combined. Your reputation is objective, not subjective, and is built from credibility and trust. Online reputation makes it easier - or more difficult - for a customer to decide to purchase your product or use your service, so it's a hugely important asset.
An online reputation is created through an interplay of actors on several channels. Individual customers contribute actively by writing comments about your business on Facebook, Twitter and other platforms and by writing reviews. In addition, there are fora and blogs where people may exchange information about your service or products. Company employees also contribute to online reputation by engaging online in social networks - for instance posting photos of a team event. Most important of all, the company itself communicates its own values in all its transactions as well as forms of external corporate communication. All these factors affect your online reputation and come under the aspect of reputation management.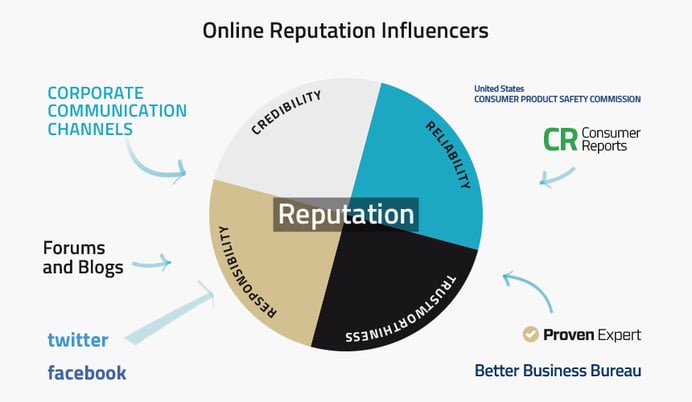 5 ways to enhance your company's reputation online
Don't be fazed by the fact that anyone online can affect your company's reputation. The following tips will help you manage your reputation successfully.

Complaint Management
Listen to your customers. Try to take something positive away from their criticism and learn from it. Respond swiftly to complaints and questions, and always take an issue seriously.By actively collecting feedback online and monitoring your online communities, you"ll always be in the know when it comes to your reputation.

Customer and Employee Loyalty
Loyal customers and employees are your brand ambassadors. They act as a form of defence against competitors and their positive reviews and feedback build a strong foundation for your online reputation.

Referral Marketing
Get reviews and ratings from satisfied customers and present them online. ProvenExpert is an ideal solution for this. A potential customer will do some research, find reviews and then decide whether to use your service.
Search engine optimization
It's important to make sure that positive news about your company is as visible in Google results list as possible. Potential customers search for your business online. And you can actively influence what they find there.
social media marketing
People will discuss your company in social media in any case. So why not give potential customers a point of contact for questions, positive feedback or complaints to demonstrate that you want to foster an open dialog.
Learn how to handle fake reviews
You might be asking yourself - how can I do this, when I only have a small company? Or, for that matter, a large cooperation that's discussed all over the Internet. The fact that anyone can publish their feelings and opinions online and write a negative review can lead to headaches for some companies. In some sectors, fake reviews pose a real problem. We can help you combat this problem.
Of course, everyone is free to express their opinion. But in terms of your reputation, it's important to know what's being said about your company online. If this is something you actively monitor, you can respond accordingly. ProvenExpert enables you to stay up-to-date with all your latest ratings, since you receive regular emails with bundled feedback from customer review platforms. This way, you know straightaway where and when you need to respond.
To stop fake reviews, you can report them - in extreme cases, they'll be deleted by the platform operators. And as for unfair reviews - or online trolling if you receive it - it's best to engage politely, with respect and to provide balance by noting positive feedback that your company has also received. ProvenExpert helps you collect reviews from satisfied customers, present them online and create an authentic impression of the service you offer for new, potential customers. Along with this positive feedback, respond to unfair reviews positively and in an upbeat way.
Don't worry about negative reviews! Everyone wants the majority of their reviews to be positive, but a business that has only positive, 5 stars reviews will strike users as implausible. One study has shown that a 4.5 star review will create more trust than a 5 star review and that the occasional negative review lends more credibility to other, positive reviews. So in fact, they help build trust in your business. At the end of the day, a good service is what counts, and an isolated negative review will not contribute a great deal to your long-term reputation.
Want to take control over your reputation? Manage your reviews with ease on ProvenExpert now.