Respond to Negative Reviews from Employees and Bad Reviews in Travel for Hotels & Restaurants
Published: April 1, 2022 | Last updated: May 31, 2022
These Review Response Examples by Industry are a part of our Guide on How to Fix Bad Reviews. Want more? Download the 60+ page guide on how to fix bad reviews here.

A number of industries and business cases can produce negative reviews that should be responded to in specific ways:
How to Respond to Negative Employee and Ex-Employee Reviews
Employees and ex-employees have many outlets available to them, including Glassdoor (see above), Indeed, Comparably, Blind and others to leave negative reviews on. Unlike other types of reviews, these people are not commenting on your company's products or services, but on the company itself and possibly its internal policies, personnel or structure. Such comments have the potential to be particularly inflammatory and vicious, particularly if the option exists to leave a review anonymously.
Some non-career websites like Yelp and Google have policies that allow reviews from employees or ex-employees to be deleted. But before requesting to have a review removed, make sure you have your facts absolutely straight. There also may be legal options available to you (see the "Taking Legal Action" section above), particularly if a review contains false or libelous information. But be aware that especially with ex-employees, the downside potential in terms of negative publicity can be large; if they're no longer working for your firm, they may feel that they have few constraints in terms of letting loose.
In this example, an employee has an angry opinion about the CEO, who is leaving the company. Fortunately, that seems to be the only complaint, but the responder (who identifies herself by name) invites the reviewer to have a private conversation anyway. Note that the review indicates that "12 people found this review helpful"; but likely, many more people than that saw it. Bear this in mind when responding to reviews from employees and ex-employees: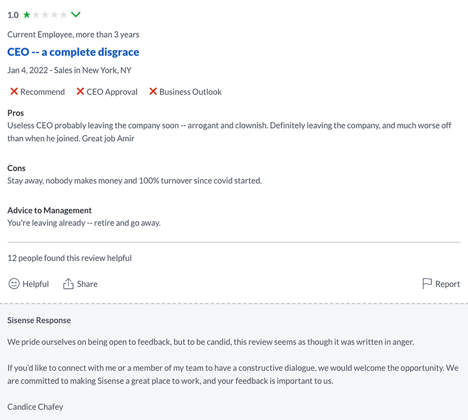 In the following example, the reviewer has a number of complaints. The CEO took the time to respond, which sends a powerful message by itself. While not addressing individual points, he:
States that the issues raised by the reviewer are completely unacceptable for the company

Apologizes
How to Respond to Negative Travel Industry Reviews
Like ex-employees, travellers are less concerned about leaving negative reviews because the chances that they'll return (especially if they've had a bad experience) are not high. Therefore, careful consideration should be taken in terms of what to offer this group of people beyond kind words and promises to do better in the future. Many people will not visit the same city or country twice, so your response to a negative review may be more for the benefit of future visitors than the original customer.
Here's an example of a slightly negative review left on Airbnb. Note how the response:
Addresses the reviewer directly

Explains the issue

Invites more personalized service if and when the reviewer returns
This serves a dual purpose of both responding to the original customer and showing potential guests that the listing was not intended to deceive anyone: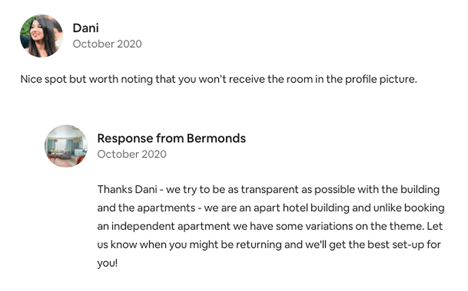 Here's an example of a negative review for a major tourist attraction in London. Note how the responder:
Apologizes

Explains how they deal with this issue

Offers a solution to improve the experience

Signs the message personally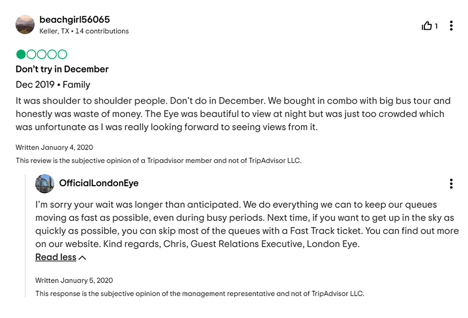 How to Respond to Negative Hotel Industry Reviews
As with travelers (of which hotel guests are a subset), the chances are good that a guest won't return to a hotel if they had a bad experience there. If the hotel in question is part of a larger chain, a voucher or gift certificate for a stay elsewhere could be considered, but otherwise, a response should be tailored to consider future guests just as much as the original customer.
Here's an example of a negative review about a circumstance that was likely a one-time occurrence. Note how the manager who responds:
Thanks the reviewer for their feedback

Apologizes

Empathizes

Asks the reviewer to contact them privately to discuss things further
This response takes into consideration not only the customer, but potential future guests who can see that the hotel is responsive to complaints: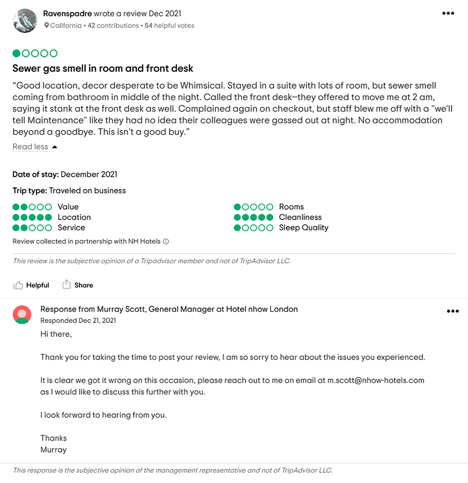 In this review, the customer describes a billing problem. Note how the manager:
Apologizes

Volunteers to take action

Invites the reviewer to email them personally

Reiterates that the matter will be addressed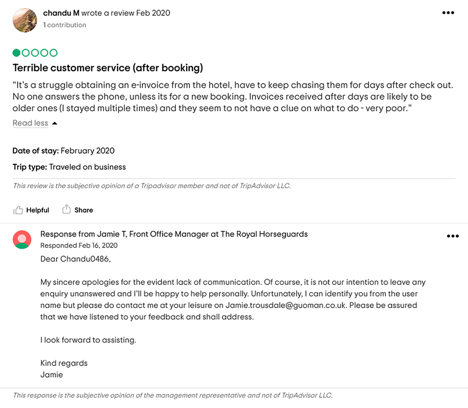 How to Respond to Negative Restaurant Industry Reviews
Unlike travel-related businesses and hotels, restaurants tend to be frequented by people who live nearby; these people have the potential to be repeat customers (they often are). Because of this, a tactic of offering a discount (or even complimentary) meal in the future can be a powerful temptation, particularly if it was the service they objected to, rather than the food. It's much easier to convince a person that a server or a bartender was simply having an "off night" (which still nonetheless should be considered unacceptable) than that the restaurant just happened to have bad food "that day."
If the customer thought the food was unacceptable, offering them more bad food is likely not going to mollify them. In the latter case, it pays to have the customer be very specific — was it one particular dish that could use improvement, or was the whole meal a problem? Was the issue the environment (was there a crying child or an overly loud group nearby)? See if amends can't be made by inviting the customer to dine at a different hour, at a different table, with a different server, or on a different day.
If the complaints are significant, tell the customer what plans there are to address them, and see if they want to come back again in several months to see if improvements have been made. In many cases, simply reaching out and being courteous will accomplish much; after all, a meal is not a flight or a hotel stay and may be more easily dismissed, particularly if it wasn't costly.
Here's an example of a negative restaurant review. Note how the owner:
Apologizes

Offers a free gift card

but
Doesn't explain why the customer may have had that experience (for instance, that it might have been an error on the part of the chef or too busy that day)

Doesn't explain how the business will be addressing the problem in the future.
For the customer, this could be a frustrating and unsatisfactory response, despite the offer of potentially free food: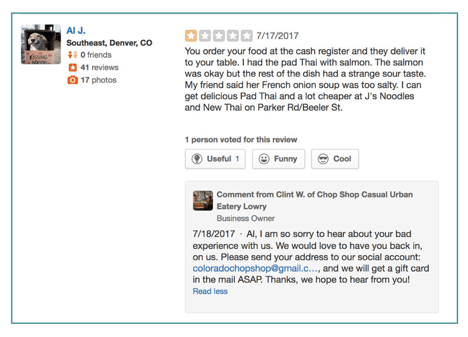 In this example, there seems to have been a misunderstanding with a bill. Note how the business manager:
Responds in a timely manner

Addresses the reviewer personally

Apologizes

Mentions the specific problem and what they believe happened

Suggests a solution

Invites the reviewer to email or call them personally
Want to learn more tips? Get the Free Guide here and fix your bad reviews today.
Want more tips? Get 60+ Page PDF to Fix Your Bad Reviews