How to Respond to Good Online Reviews
Published: December 5, 2022 | Last updated: January 9, 2023

It goes without saying that you should always respond to a bad online business review, but what about when someone leaves some really good feedback? According to Finances Online, consumers read an average of 10 online reviews before they can trust a local business. What you might not have realized, however, is that those customers are also looking to see your responses to your reviews.
It's easy to make the mistake of ignoring good reviews or just leaving them where they are without a response. After all - you've done your job well if they leave such glowing reviews! But what if we told you that the customer journey doesn't end with the business transaction?
If your customers are taking time out of their day to leave positive feedback and a good review of your business for other prospective customers to see, the least you can do is respond in kind.
Why should I respond to good customer feedback?
Your customers aren't obliged to leave reviews for your business - no matter how great the service they received - but it certainly helps when they do. Word-of-mouth recommendations and reviews are vital to generating new leads and building trust with new customers.
In fact, according to BrightLocal.com, 57% say they would be 'not very' or 'not at all' likely to use a business that doesn't respond to reviews at all. That's over half of your prospective customers getting turned away before they've had a chance to try your business. 89% of consumers are 'highly' or 'fairly' likely to use a business that responds to all of its online reviews. (BrightLocal 2022)
So when those new and prospective customers see you actively engaging with your past customers, thanking them for their reviews and proactively working on their feedback - they can see for themselves that you're a business worth investing in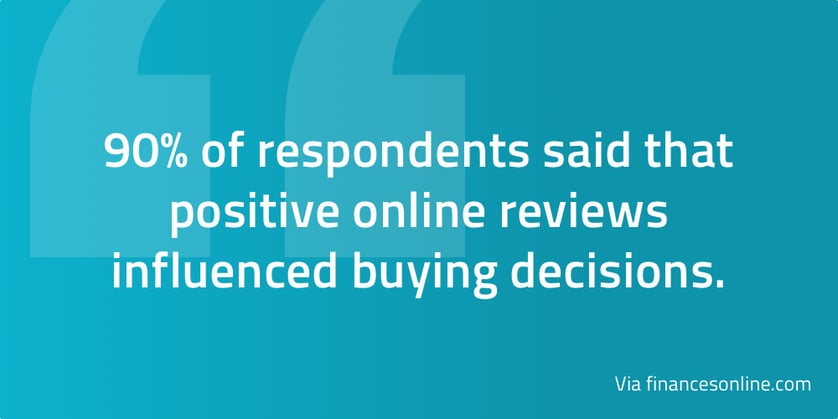 How should I reply to a good review?
Online reviews are an incredibly useful tool - especially for small and independent businesses. Not only are they a clear display of your business's worth, but they're also a great way to promote your business to a wider audience. Here are our 10 top ways to respond to online reviews to boost your business.
1. It's okay to leave a quick comment.
You don't have to respond to every good review with a well-curated essay - after all, you have a small business to run! Just dropping a quick comment or short message below their good comment or review shows that you take customer feedback - good or bad - seriously. It's also a great way to interact once the client journey has come to an end.
2. Thank them for their feedback.
This goes for all kinds of business feedback - it's just polite! If someone has given up their time to write a review or comment on your social pages, thank them. A quick "Thanks for your feedback, we're so glad to hear you enjoyed our product" goes a long way.
3. Send them a gift.
Of course, this isn't for every customer, but if someone has left a particularly special review, it's always nice to go the extra mile to thank them. Discount codes for future purchases, vouchers, and offers like free shipping encourage people to come back to your business repeatedly - and to leave even more reviews.
4. Keep it personal.
Copy and pasted responses might save you a whole load of time, but it won't be long until people spot that your thank you messages are more of a boilerplate response and not an authentic one. Where appropriate, thank the reviewer by name, and make sure that your response is relevant to the review that they've left. Always be cautious when it comes to personal details - the last thing you want is to taint a positive experience with a GDPR nightmare!
5. Feature it on your social media.
A good review shouldn't be left on your testimonial pages. Use it to create content for your social pages, turn it into a video, or add it to your Twitter bio! You can switch them out with more up-to-date reviews or keep a selection of particularly fitting reviews as features in your socials pages.
6. Add it to your website.
If you've not got your best reviews featured on your website by this point, then you're missing a trick! Whether it's capping a feature photo or part of a collection on a customer feedback and testimonials page - collating your best reviews in one easy-to-find spot will make it even easier for prospective customers to learn everything they need to know about your business.
7. Put it in your email signature.
Received a particularly good review? Add it to your email signature. It might sound vain, but it's just another way for people to see that your business really is the bee's knees. Better still? Add a link to your ProvenExpert review profile so they can see all of your reviews across multiple review platforms all in one easy-to-read place!
Not set up your free ProvenExpert profile yet? You can do so here: Set up free profile
8. Make a QR code
Link through to your online review profile - courtesy of ProvenExpert- or your website's testimonials page so that it's even easier to direct potential customers to find reviews about your business. Stick it on your socials, your marketing materials, and even your shop window.
9. Put it on a t-shirt
Have you ever asked the staff in a restaurant what they'd recommend? Adding customer feedback and recommendations to your staff uniforms will create great talking points and encourage them to try the "waffles that were to die for"!
10. Add it to your product listings.
If feedback, comments, or reviews mention a particular item, then why not add it to that item's web listing? Add it as a product image, and include it in the item description to build confidence and convince people to click the add to cart button.

In summary…
More than half of all consumers wouldn't want to spend their money at a business that ignores its online reviewers. Responding to your reviews and customer feedback - good and bad - is a vital tool that builds confidence and trust in your business.
There are lots of creative ways that you can respond to good customer feedback. From a quick thank you to using it in your marketing materials - the possibilities are endless!
Your customers aren't obliged to leave you positive feedback, so it's important that you thank them personally for the time that they've taken to review your business. Add a personal touch to show how much it means to you and your business!
Don't forget! Another great (and free) tool that can help you clean up and maintain your online reputation is your very own ProvenExpert account. Have you set up your free profile, yet? To find out more about how a ProvenExpert profile can benefit your business, visit our blog.