How to Reply to Negative Ex-employee Reviews
Published: December 21, 2022 | Last updated: January 17, 2023

Employees and ex-employees have many outlets available, including Glassdoor (see above) Indeed Comparably Blind, and others to leave negative reviews on. Unlike other reviews, these people are not commenting on your company's products or services but on the company itself and possibly its internal policies, personnel, or structure. Such comments can be inflammatory and vicious, mainly if the option exists to leave a review anonymously.
Some non-career websites like Yelp and Google have policies that allow reviews from employees or ex-employees to be deleted. But before requesting to have a review removed, make sure you have your facts straight.
There also may be legal options, mainly if a review contains false or defamatory information. But be aware that, especially with ex-employees, the downside potential in terms of negative publicity can be large; if they're no longer working for your firm, they may feel that they have few constraints in letting loose.
Examples of Negative Reviews by Employees and Their Response
Example 1
In this example, an employee has an angry opinion about the CEO, who is leaving the company. Fortunately, that seems to be the only complaint, but the responder (who identifies herself by name) invites the reviewer to have a private conversation. Note that the review indicates that "12 people found this review helpful," but likely, many more people than that saw it. Bear this in mind when responding to reviews from employees and ex-employees: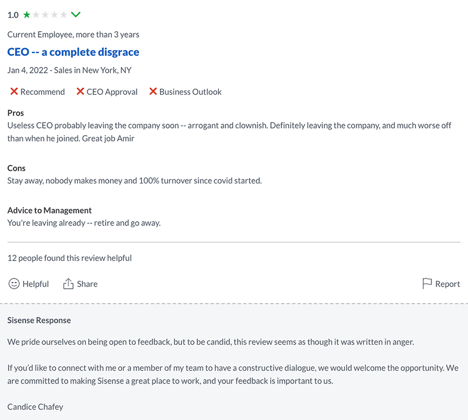 Example 2
In the next example, the reviewer has several complaints. The CEO took the time to respond, which sends a powerful message. While not addressing individual points, he:
States that the issues raised by the reviewer are entirely unacceptable for the company

Apologizes

Offers multiple suggestions of managers (in addition to himself) the reviewer can communicate with privately.
They started with an apology which goes a long way, and it implies that they are paying attention to what the employee is saying.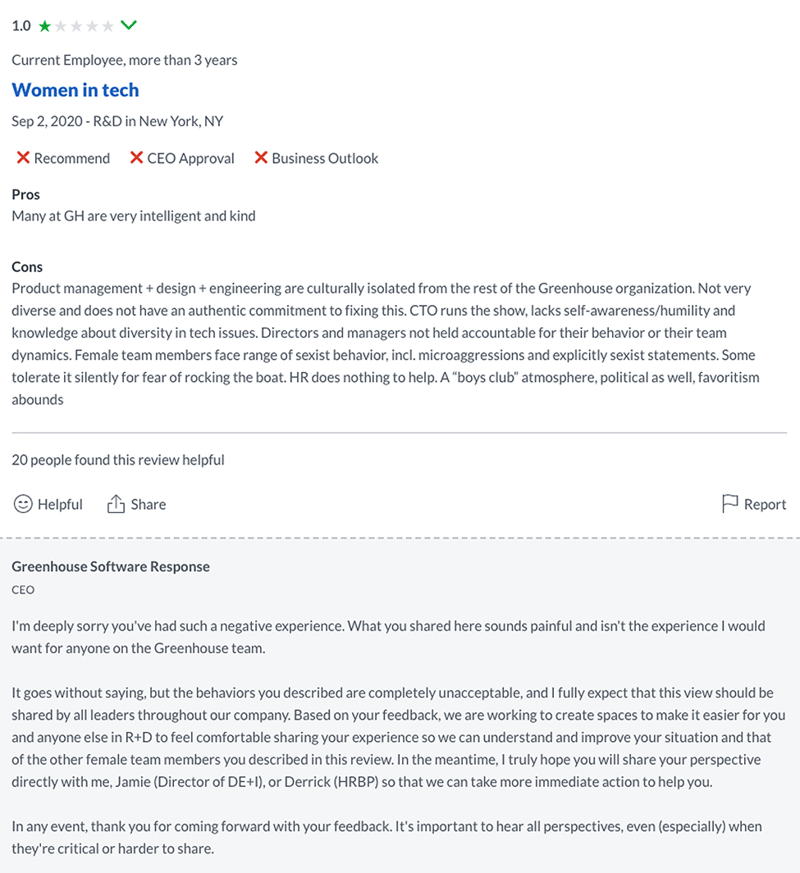 Example 3
The third example involves employees stating what they like and dislike about working in the company. They gave two sectors, which include the pros and cons. There was a response from the account manager of the company. It started with a thank you for the recognized effort. The account manager:
Identified the problem the reviewer mentioned.

Acknowledged the reviewer's concern and mentioned how they handled the area of concern.

Mentioned opportunities available for employees in the area of concern.

Provided a platform for the reviewer to learn more.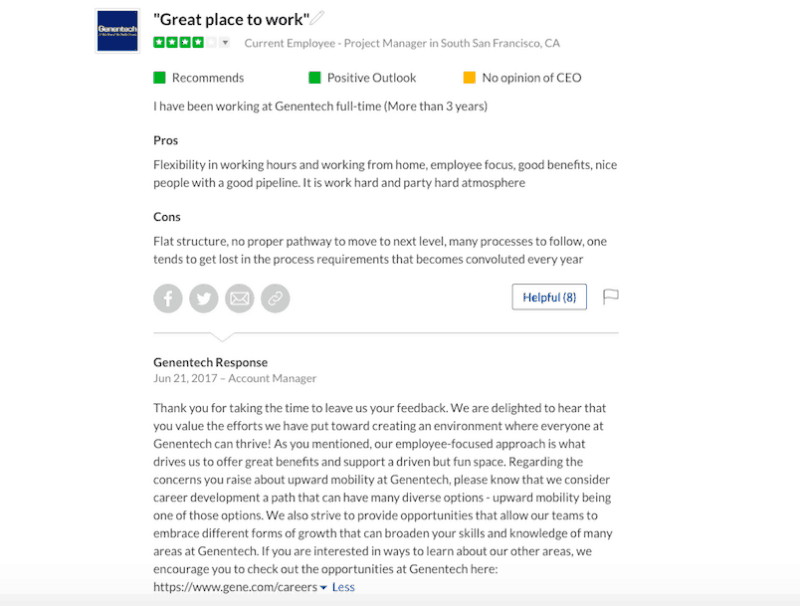 Example 4
This example is about a review from a former employee. The reviewer complained about how hard it was getting noticed even if the person had been a top rep for a year.
The company responded how:
Happy they were to hear from the reviewer.

They agreed on how lucky they are to have outstanding performers.

They are thankful for how they mentioned employee recognition.

The reviewer can freely talk to the manager about any more issues.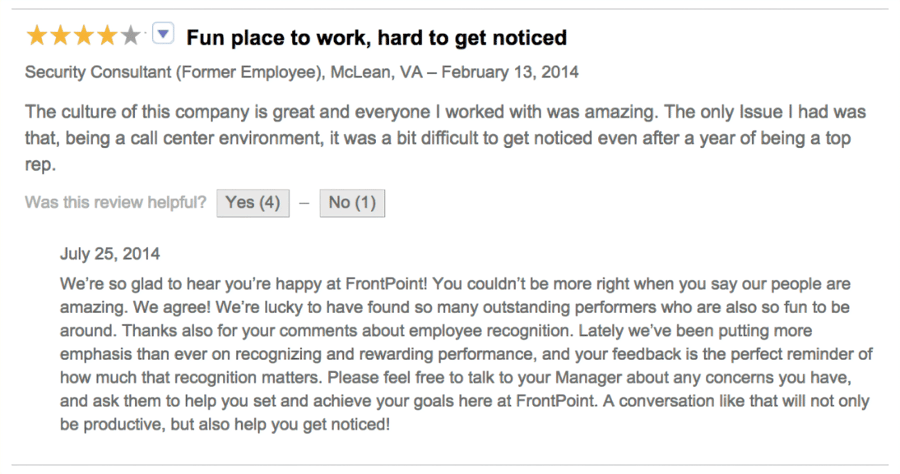 Example 5
A current employee gave a review in this example. Their primary concern was how roles and responsibilities weren't clear. The company started by thanking them for pointing out their unique work system. And they continued with:
Mentioning some of the benefits, they offer their employees.

They talked about how they will continue to make the work environment conducive.
They failed to acknowledge the problems the employee was having. It is vital that they addressed it, as it would have made a difference.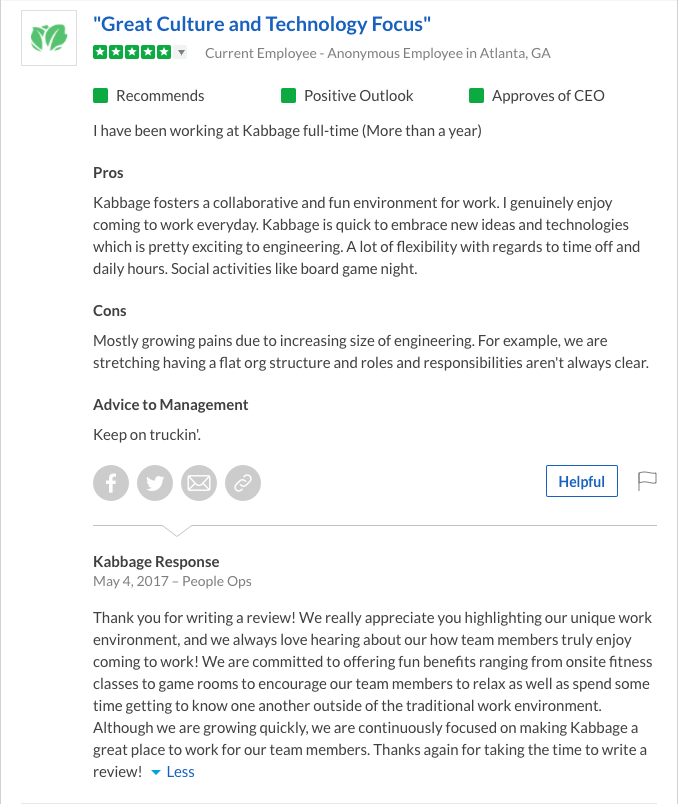 Example 6
This example is about a current employee with mixed feelings. The employee believes there are serious communication issues in the company.
The company's representative responded, appreciating them for the feedback. They mentioned:
How crucial it is to them that their employees perform well.

They know that communication is not easy, and they are trying.

How they would love to hear the opinions of the reviewer. They also left their email address for direct contact.
They did not forget to mention the reviewer's negative comment. This is important because it shows they are listening and open to learning.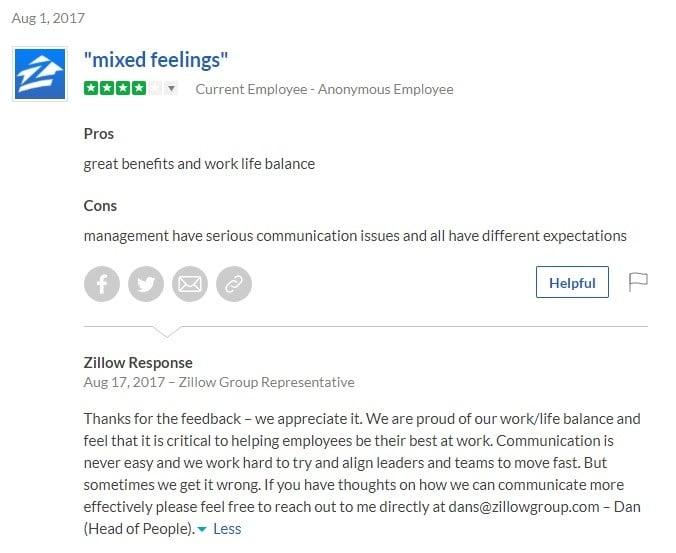 A company's reputation is its most valuable asset. If a company's reputation reduces through a negative review, it can harm the company negatively.
The importance of responding correctly to the negative reviews of employees is that it allows you to maintain a positive work environment. The right way to respond is more than a thank you but also to explain in great detail how the review will help make possible corrections.
The importance of responding correctly to negative reviews:
Providing a reply is the best way to address issues raised by employees, and it shows that you care about your staff and their opinions and encourages them to provide more positive feedback later.

You can also use this opportunity to find out what aspects of your business contributes to employee dissatisfaction. It can help you develop strategies and policies to address these issues and reduce them over time.
Tips to Consider when Replying
Here are some suggestions for how to respond to negative employee reviews:
Be sure not to ignore the review. It's important to acknowledge that an employee has posted a review about their experience at your company.

Offer an apology if appropriate. If an employee has complained about something that happened during their employment, be sure to apologize and reassure them that you're taking action to address their concerns.

Explain what happened in the best way since no one else might be able to do so at this point (for example, if an employee claims to have been fired unfairly or didn't receive proper compensation).

Respond quickly after the review has gone live so that you can explain yourself in detail before any other employees see it (and before it becomes public knowledge).

Your response should come as fair and reasonable.

Provide better platforms where their opinions are better heard.
Templates to Use When Replying
Hi [name of reviewer], thanks for your honest feedback. We appreciate it when you were with us, but we're sorry that you didn't feel supported. We are constantly searching for means to improve our support staff so that no one goes through a similar experience.

[Name of reviewer] we are sorry for what happened while you were with us. We always look for better ways to improve our work environment. Kindly reach us through [insert contact inform], so we can hear more about your opinions.
Please do not hesitate to contact us at [insert contact inform] if you require additional information.
We appreciate your review [name of reviewer]. Although we are sorry you had a bad experience, we genuinely appreciate you bringing this to our attention.

[Company Name] apologies for your experience. Thank you for understanding that your circumstance was unique. We are known for taking responsibility and genuinely caring about our staff. We can't change the past, but we promise to do everything we can to enhance how staff feel and get treated. Please accept, on behalf of the entire team, our sincere apologies [name of reviewer].

[Name of reviewer] we hold ourselves to a high level, and we are deeply disappointed to learn that this was not the case throughout your engagement with our company. We appreciate your understanding.

After going through your review, we understand why you feel this way. We appreciate all the years you spent with us, and we will ensure to do better with our employees moving forward. Thank you for the feedback [name of reviewer].