Chris Hortsch: Customer ratings and reviews increase conversion rates and revenue
Published: April 23, 2018 | Last updated: June 23, 2022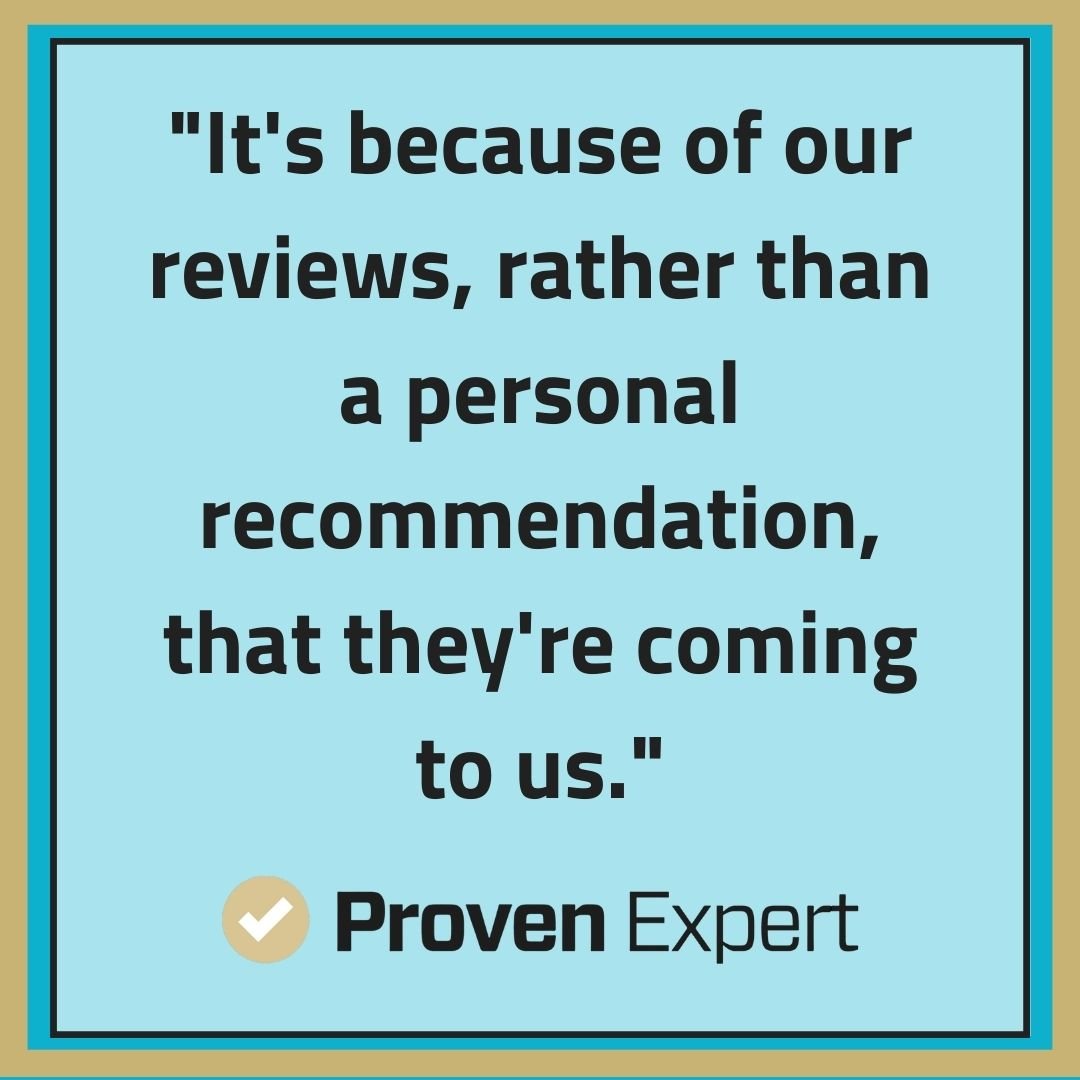 Being a web designer in Berlin isn't easy, as there's a lot of competition. Chris Hortsch has been successfully navigating the creative maze of Germany's capital since 2004, first as a freelance web designer and since 2011 with his own web design agency chris-and-friends.
He's not just into plain programming and website design; his aim is to highlight his customer's unique selling points - so that the final customer will do what Hortsch's customers want.
He calls this "taking commercial initiative". Knowing how to display your business successes is part of this concept. Chris Hortsch finds that satisfied customers have an enormous influence on potential customers. When a ratings seal is strategically placed on a website this increases the conversion rate even further.
Proven Expert is currently offering 30 days free premium subscription. Sign up here to avail. Take a step in right direction towards more trust, more customers and more revenue.
Before using ProvenExpert, did you collect customer feedback, and what did you do with it?
"Yes, I had been collecting customer feedback for a relatively long period of time. But I was quite neglectful and approached it in kind of an old school way. When a project was finished, I'd write to customers asking if they could write a couple of sentences about their experience. I then programmed that into my site and published it online. But in terms of authenticity, it wasn't great, since anyone can write references for their own website. So I started looking for a tool that would enable me to work with and display customer feedback in an authentic way - that showed it was genuine."
Do you use other review portals in addition to ProvenExpert?
"Not really. The only one I am at all active on is Google My Business. When it becomes apparent that a client would like to leave a review in a conversation, I'll send out the link to the My Business Account. I'm always happy to do that, and that then ties in with ProvenExpert as well."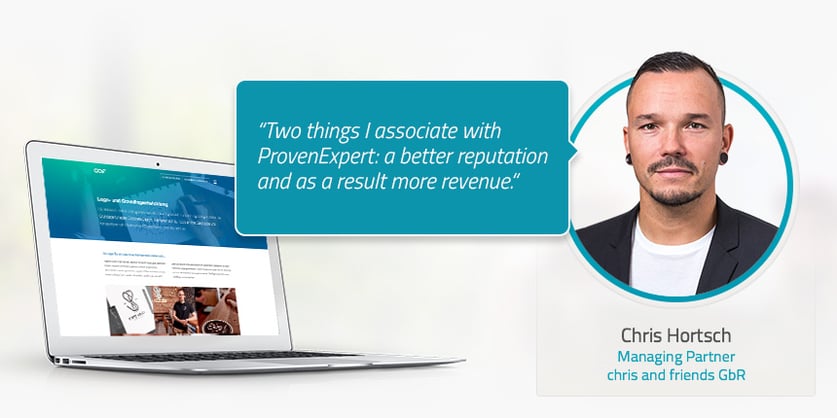 Why did you decide to start actively collecting customer feedback?
"I've found that customer feedback provides me with an advantage because I've received more new customer enquiries. I think that people feel more secure because my business is more transparent this way. You're in a better position when you actively ask customers for feedback. It elevates your business."
What are your expectations and goals when it comes to using ProvenExpert?
"ProvenExpert is definitely a good way to boost your business reputation. And what's good for your reputation is also good for your revenue. They go hand in hand. Those are the two things I associate with ProvenExpert: enhanced reputation and increased revenue as a result."
How do you let people know about your ProvenExpert profile?
"I try to integrate the widgets provided by ProvenExpert into locations on my website that are most relevant for conversion. I act with customer turnover in mind, while considering the impact on my own site too. For instance, I have a contact form built into my website and I've included ProvenExpert directly in the call-to-action. The ratings seal with the number of customer ratings and the average rating is displayed there, and beside it the inquiry button for my site and my services, which customers can then click and access. So I would integrate the seal not just anywhere - but integrate it in a way that's relevant to conversion."
What do you see as the greatest value of using ProvenExpert in comparison with standard review platforms?
"One thing I always recommend to others as a particular advantage of ProvenExpert is the ability to aggregate reviews. As a rule, people can review you anywhere on the internet, and that's exactly what they do - sometimes without my knowledge. And the fact that you can combine all this feedback and publish it as an aggregated score is a huge benefit. My customers to whom I've recommended ProvenExpert see this as a major bonus too."
...that you have a clear overview of everything?
"Yes, exactly."
Have you gained new customers through using ProvenExpert?
"It's hard to say yes specifically, because it's difficult to track this. But I can say with certainty that I've won or started new web design projects thanks to ProvenExpert. A good customer evaluation management system definitely increases your conversion rate, and your turnover as well."

Have you had customers who have said they've come to you because of your reviews?
"Yes. Lots of new customers have said they've approached me upon recommendation. And when I have asked them specifically who recommended us, it is often the case that a recommendation doesn't necessarily come from an existing customer of mine, or an acquaintance of theirs. They mean that it's because of our reviews, rather than a personal recommendation, that they're coming to us."
How have your customers reacted when you have approached them for feedback?
"Around half of my customers respond to my feedback requests."
How do your customers react to feedback invitations?
"They react positively, that's for sure. Some just leave a star rating, others leave a written review. I don't specifically request they leave comments. However, hardly any clients leave five stars without writing at least a sentence to go along. That's all completely voluntary.
Do you look forward to reading a rating when you receive a notification about one in your inbox?
"I look forward to each rating, without exception. Yes, I can say that."
Have you been able to pinpoint some strengths and potential areas for improvement as a result of online surveys?
"Yes, I think so. For instance, I've noticed that people have reviewed me even before they become a customer. It's a nice validation for the work that's already been done - i.e. it's feedback on a standard first consultation. So I take this into consideration and want to strengthen this step of the process in the future."
Do you have a closing statement for us?
"I think it's good that people can use your rating and review management tool to make content that was previously anonymous public and display it in a transparent and authentic way. Plenty of web designers put up "thumbs up" images on their websites without a face or name for their source. I'm into transparency, so I do things differently. I also think it's good that ProvenExpert works on developing its own brand. After all, I'm integrating the ProvenExpert brand into my own website. It's about my name, the impression I create. On my website there is no outside content, apart from ProvenExpert. Any brand that I consider displaying on my website needs to ensure a minimum level of focus on its own reputation and the impression it creates before I will integrate it into my own website in the way I do right now. ProvenExpert does this, and you do it well."
Summary
Thanks for your feedback here, Chris. Don't forget: ProvenExpert can help boost your business, just as it has helped Chris'. Don't believe us? In his own words:
"Before joining Proven Expert, in terms of website authenticity, it wasn't great, since anyone can write references for their own website."

"You're in a better position when you actively ask customers for feedback. It elevates your business."

"I've experienced enhanced reputation and increased revenue as a result" with Proven Expert ."

" Around half of my customers respond to my feedback requests on Proven Expert."
If you want to build a better platform for your business feedback, get in touch with us today by emailing [[INSERT EMAIL HERE]] or visiting ProvenExpert.com for more information.
Want to take control of your reputation? Easily manage your reviews with ProvenExpert now.