Clean up your business's online reputation
Published: December 5, 2022 | Last updated: January 9, 2023

Your online business reputation is a
big deal.

Whether you're a small and independent business or a large company - a bad online reputation will prevent your business from reaching its fullest potential.

The frustrating truth is that most small and independent business owners don't think that they have the time or skill to clean up and maintain their online presence, or - worse still - they don't think that it matters.

According to a study by Qualtrics, 94% say that an online review has convinced them to avoid a business. That means that your online reputation could be responsible for the death of 94% of your new business leads before you've even had a chance to be introduced. And when you're trying to keep your small business turning over, every lead to a new customer is vital.

The good news is that cleaning up your online business reputation isn't as big and scary as you might think. With a little bit of time investment now, you won't just dust away those old content cobwebs and clear out the reviews hanging around like a bad smell: you'll be creating a new avenue for your customers to find you, vet your business, and build trust with the click of a button. Neat, huh?
How do I clean up my online reputation?
Start by searching for your business! No, really. We're being serious.
Taking a holistic view of where your online business reputation is right now is going to give you a better idea of where you need to start. Think bigger picture. Taking a step back and reviewing what your current profile is like will highlight what your online reputation is doing well or where it could use improvement.
It might feel like an exercise in vanity to search for your business on a range of search engines and platforms, but until you know what your customers are seeing when they're googling your business, you won't be able to rework it in your favour.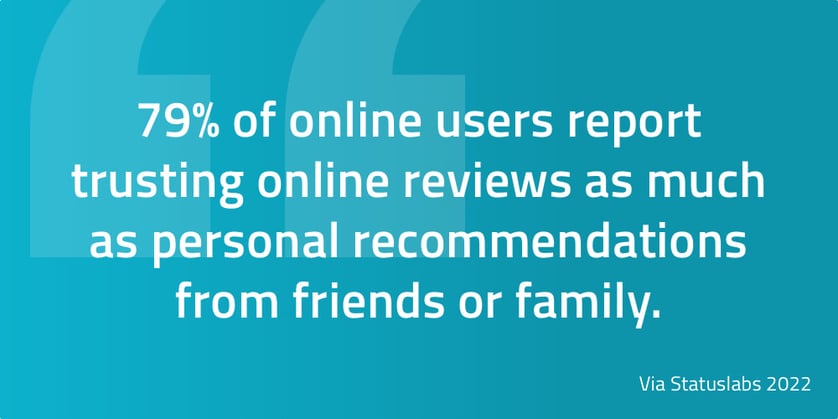 Top tip: Ask friends or family if they can search your business and see what they can find. Ask for first impressions or what (if anything) would put them off from hiring you.
How do I fix a bad online reputation?
Now that you've looked at the bigger picture around your online business reputation, you might have spotted a few things that aren't quite right. Whether it's the out-of-date contact information preventing new customers from getting in touch, or a bad review from before your time affecting your five-star rating, now's the time to get your online business reputation under control.
According to StatusLabs, 48% of online users would consider using a business with an average rating under 4 stars, and only 19% of online users would consider a business with fewer than 3. Thankfully bad reviews don't have to mean bad news. Here are some quickfire tips to help you clean up your bad reputation.
1. Deal with your bad reviews.
Whether they're a genuine poor review from a customer or a review left by trolls trying to tank your business - you can't ignore poor reviews. Responding to your reviews with a professional and courteous tone offers you an opportunity to turn a bad review into a positive outcome for both you and the customer.
Be open and honest, and try to seek a resolution that works for both parties. Potential new customers will see that your business cares about its clients and that they strive to do their best. Once the situation is resolved, you can always ask the complainant to edit their review or leave a new one with an update on their situation.
But what about fake reviews that are there to tank your rating but can't be interacted with? If you think that a review is from a spam bot or part of a trolling campaign against your business, you can request that the review platform (Google, Facebook, Tripadvisor) remove the review in question, but this only works in clear cases of fraudulent reviews.
2. Delete what you can.
This doesn't mean going nuclear and deleting your entire footprint! If you remove everything from your past, you're showing new customers that you have something to hide. Trust is built from consistency, and seeing that your business has been consistently customer-focused will work in your favour.
3. Build trust.
Keeping your current information up to date, providing regular updates about any changes to your business, and maintaining contact with your customers - even if it's just thanking them for leaving a positive review- are all ways you can build trust with your online business profile.
Some more ways include removing sketchy adverts and pop-ups from your website, ensuring that all your security certificates are up-to-date, and displaying any seals of approval or certifications on your website for your customers to see. Check links, make sure contact details are in date and relevant, and remove any old and obsolete information.
How do I manage my online business reputation?
One of the trickier aspects for many small and independent business owners when it comes to protecting their online business reputation is maintenance. When you already have so many things to remember and a whole business to run, adding another thing to the pot can sometimes feel overwhelming. Here are our best quick tips to help make it easier:
Set aside regular time: Whether it's the first job in the morning while your brain is warming up or something to open and close the week - setting aside a short amount of time each week to keep an eye on your online reputation is going to save you plenty of time in the long run.
Keep a checklist: You don't have to do a complete deep dive every time you want to check on your profile. Keep a checklist of the most important things like - is my information current? Have I answered all questions or reviews? Are the contact details up to date? Do the main links still work?
Set up alerts: Make sure that you have alerts set up that let you know every time a new customer has interacted with your business. Respond to comments, questions, and reviews in a timely manner, and always try to direct people interacting with you online to contact you directly - either through direct messages or via email. This way, you can control what is being shared on your pages and maintain a clean and well-curated profile!
Need more guidance? Check out our free eBook here: First Aid Kit - Sign up for your free PDF full of in-depth ways to clean up your online rep.

In summary…
Just like spring cleaning your house, you should regularly clean your online business reputation. Cleaning and maintaining your online profile will help your business to…
Build trust with customers, both old and new
Highlight what's great about your small business and what puts it ahead of the competitors
Protect it from future reputational risk.
Don't forget! Another great (and free) tool that can help you clean up and maintain your online reputation is your very own ProvenExpert account. Have you set up your free profile, yet? To find out more about how a ProvenExpert profile can benefit your business, visit our blog.