NEW: All-in-One Expert Seals and Rating Widgets are now available
Published: September 28, 2022 | Last updated: September 28, 2022
All in view at all times: Immediately monitor customer ratings from other online portals on your ProvenExpert profile and present them on the new expert seals and rating widgets.
It was announced a few weeks ago, but the time has finally come: The new rating seals and widgets are now available to our users. The format, information content, form and positioning of the rating seal and widget on a website can now be individually defined.

But that's not all. There is another new feature waiting for our users: The new rating aggregator. From now on, customer ratings (number and overall rating) can also be monitored and presented by other online portals. Below you will find everything you need to know about the new functions and their integration. Have fun reading and trying it out.
What advantages does it have to have all my ratings in one profile?
Bundling all your ratings from different online portals will save you a lot of time and effort. Instead of having to access each rating portal individually in your browser, log in and click through to the profile statistics, you now have a convenient overview of all customer ratings on your ProvenExpert profile.

Daily updates ensure that you always know exactly whether, how many and where your customers have submitted new ratings and how they turned out.

In addition, you receive a weekly email report that informs you about all new activities on your rating profiles. Even if you can't manage to log in to ProvenExpert, you can still stay up to date and keep an eye on everything.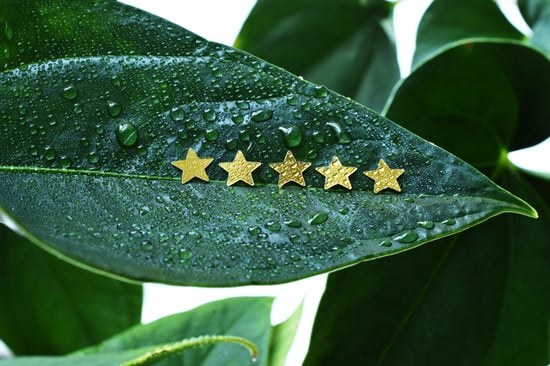 Which rating portals are supported?
Currently, we support the aggregation of customer reviews (number and overall rating) from more than 420 different platforms and portals and will expand this step by step in the coming days and weeks.
Your portal is not yet included? Add it to your ProvenExpert profile anyway. Within 72 hours of the entry of a platform that we do not yet know, our support will contact you and, after verification, add these ratings to your profile and rating widget.
How can I add my ratings from other rating portals?
To bundle the number and overall rating of customer reviews from other portals in your ProvenExpert profile, click on the blue arrow in the box "Ratings from other sources" below your reviews when logged in. A click on the button "Add profiles" displays a new layer where you can add your external rating profiles and manage them at a later point.

Use the privacy settings to define whether the external ratings are displayed on your public profile and rating widget.


Add and manage external rating profiles and view the current status.

The status indicates whether and which external portals are already stored in the system.

After successful activation, your profile will display the weighted average score of all ratings and the number of external sources.

The box "External ratings" contains a detailed view of the number of ratings, the average rating and the date of the last rating.

Use the privacy settings to determine whether the external ratings are displayed on your public profile and rating widget.

Add and manage external rating profiles and view the current status.

The status indicates whether and which external portals are already stored in the system.

After successful activation, your profile will display the weighted average score of all ratings and the number of external sources.

The box "External ratings" displays a detailed overview of the number of ratings, the average rating and the date of the last rating.

Use the privacy settings to define whether the external ratings are displayed on your public profile and rating widget.


Enter the exact URL (web address) of your respective rating profile and confirm your entry by clicking on the "Add" button. Depending on whether you use our service free of charge or one of our three service packages, you can add one to an infinite number of external profiles. After you have added all profiles, close the layer. We will verify your information within 72 hours and then release the external ratings. You will be informed by us with a short e-mail after the release. You do not need to do anything else. The ratings are retrieved regularly and automatically updated in your profile and the rating widget. Once a week, you will receive a summary of the newly received evaluations in our reporting.

Similar to any of our features, you decide whether the ratings from external sources are also displayed on your public profile or are only visible to you. If you publish them, the stars of the aggregated ratings will be displayed in Google Search.

Ratings from other portals must comply with our quality standards in order to be aggregated, i.e. ratings must have been verified and authenticated and must only relate to services that correspond to your activity declared on ProvenExpert. You can read more about this in our terms of use.


What are the formats and functions of the new rating widgets and expert seals?
Until recently, only four fixed formats were available. The new release gives our users significantly more options to create the right expert seal or rating widget. As a result, the new seals have become much more individual, flexible and distinctive.

The size, position and even the color and content of the eight different variants can be individually configured. All variants are linked to the respective public profile, as usual. In the following, we present the individual variants in detail:

1. Rating seal (classic)

The "classic" rating widget is available in three different formats: Upright, square and landscape format with sizes between 90 and 300 pixels wide and up to a maximum of 300 pixels high. The width can be freely configured in 5-pixel steps. Optionally, a customer message can be displayed on the seal if it is at least 125 pixels wide (or 150 pixels wide in landscape format). The most recent customer message is always displayed automatically.

If you don't want to place the widget in the content area of your website, we have created an option to place the rating seal on the left or right side of your browser. In addition to the height of the positioning, you can also specify the minimum screen width from which the seal should be displayed. This is especially relevant for websites that are optimized for mobile devices.

2. Rating seal (slider)

Similar to the classic rating seal, the three different formats are also available in the slider variant in individually configurable sizes. The only differences to the classic expert seal are that the widget is always pinned to the edge of the browser and the most recent customer vote is displayed on mouseover. All other options remain the same.

3. Quality seal

In addition to the dynamic rating widgets, we also offer a simple quality seal that can be integrated in widths between 60 and 300 pixels on a web page. Positioning at the edge of the browser is also possible.

4. ProvenExpert logo

Our logo (in black and white) can now also be integrated into your own website up to a width of 300 pixels. The positioning is customizable, just like the rating widgets and the quality seal. A template optimized for printing can be downloaded as well.

5. Rating seal at the bottom of the browser

The newest addition is a widget that can be pinned to the bottom of the browser. It is available in a light/white and a dark version. In addition to the color design, a customer voice can be added and the minimum screen width from which the rating widget should be displayed can be determined. In the next few days we will also offer a variant that dynamically adapts to the screen size.

To embed the expert seal or rating widget on your website, all you need to do is generate the relevant HTML code and embed it on your website. If you need assistance, our technical support is available to help you.
What happens if I have already integrated an expert seal?
If desired, nothing changes. You keep the "old" expert seal and don't need to do anything. If you would like, we can also automatically convert your seal to the new layout. All you need to do is send us a short message.

All the described customizations and new features are already available to ProvenExpert users in the Free version. Give our new features a try! Let us know if there is anything missing or how you like the new features.

For those of you who do not yet have a profile with us, use this link to register for free. Give us a try without any obligation, restrictions or risks. We are confident that you will have more success as well, as more than 1.000 other users have already demonstrated to us (read customer testimonials).