Negative ratings: What companies need to know
Published: September 28, 2022 | Last updated: September 28, 2022
Worried about negative ratings? Negative ratings loom over your image like the sword of Damocles. But if you respond to them correctly, they will drop on your reputation like colorful confetti. Which is why you should never let critics go unanswered. Learn how to protect your image and turn critics into fans. Here's what your company needs to know.
Action Tip:
Analyze your negative reviews.
Engage directly with the customer.
Resolve this from a humane and professional angle.
Boost that conflict resolution for people to see your business as a company that listens to its customers.
It's Monday morning. Amid the dozens of emails, you're startled to find the mention of a rating that was received over the weekend. Only a single star out of five. Plus some nasty accusations and the cumulative frustration of your customer. Online for everyone to see. A feeling of panic sets in, and you start questioning yourself. But what exactly should you do when you get a bad rating?

First of all, don't panic! Criticism makes you more trustworthy, and it is up to you to respond professionally. Authentic reviews and confident responses build trust. This is how you convince new and retain existing customers.
We'll show you how to counter negative ratings and turn them into an instant image boost to increase your sales.
Negative ratings are not bad for business
You are a professional at what you do, yet you will never be able to satisfy everyone. Nevertheless, it feels unfair to be publicly snubbed by customers. But on closer examination, this turns out to be an exciting opportunity. That's because 82% of customers specifically look for negative ratings.

Surely you have done the same when you were looking for a hotel for your most recent dream vacation. On one hand, because important information can be found here. On the other hand, the responses show how service-oriented a company is.

In addition, some ratings are simply the result of a bad mood. Mere ranting without reason is conspicuous. By now, consumers are quite good at distinguishing helpful criticism from baseless accusations.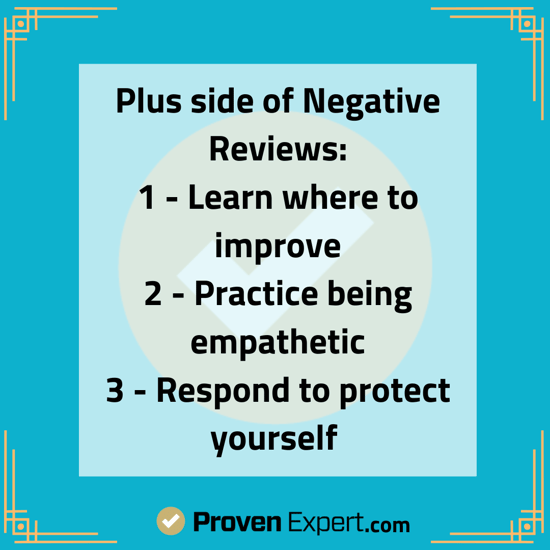 Bad reviews increase your profile
Every chef, no matter how accomplished, knows the saying: Pleasing everyone is an art that no one succeeds at. In fact, 68 percent of consumers trust online ratings more when they see a few negative customer testimonials alongside the positive ones. Not a single bad rating? Some consumers suspect fraud.

Every single customer is different. What appeals to one person is by no means the right thing for another. So don't be so hard on yourself. The more reviews you have, the more unbelievable a profile with 5-star ratings seems. A rating of 1-3 stars - plus a helpful, friendly response - adds a big dose of credibility.
How to react to negative ratings' reputation?
Negative ratings loom over your image like the sword of Damocles. But if you respond to them correctly, they will drop on your reputation like colorful confetti. Which is why you should never let critics go unanswered.

To ensure that your responses show potential customers that "customers are taken seriously here," you should take these four tips to heart. Here are 4 tips for a professional response to a negative rating:

Don't take it personally. Your customer didn't like your product or service. They don't have a personal problem with you. This is the only way to manage conflicts.
Drop the "I" phrases. Instead of writing "I think", "I believe", "in my opinion", put your customer at the center. They want you to listen to them and take their negative experience seriously.
Facts rather than sob stories. Focus on solving the problem and remain professional.
Solve the problem and be accommodating. If you take your customer seriously and solve their problem, the negative review might disappear. One-third of customers even delete or change their critical ratings to positive ones when companies respond.
The best remedy to combat negative ratings are positive ones
A negative rating between many great testimonials stands alone and isolated. The overall picture is decisive. Take an active part in building your reputation and provide more great experience reports. Simply ask your satisfied customers for their feedback and present numerous 5-star reviews next to a few critical ones.
Happy customers don't rate often? This problem can be solved. Imagine you went to a restaurant and everything was fine. No need to take further action. If the food was salty or the wait was over two hours, you would like to release your frustration. You either complain directly to the restaurant or write a review online.
Although you have many satisfied customers, this is not automatically reflected in the ratings. After all, we all only invest time when something was really out-of-this-world amazing, or we were pretty annoyed. This is why we recommend asking customers for their opinions. It's a simple and efficient way to encourage more satisfied customers to carve their experience in digital stone.
Conclusion: Good or bad - every customer testimonial will take you further
As a matter of fact, the more positive reviews you have, the less the negative ones will matter. Be confident. Ask your satisfied customers for their opinion. This will allow you to enjoy many great experiences, and the few negative opinions will be in reasonable proportion. If you respond to critics in a professional manner, you can put an exclamation mark on your customer service.

Responding to ratings or even asking for improvement, if necessary, is a matter of three clicks with ProvenExpert. New ratings from your happy customers are collected quickly. Give it a try!