Five tips for your rating profile
Published: September 28, 2022 | Last updated: September 28, 2022
Here are five tips to improve your online visibility, increase your reach and make a reputable first impression.
Action Tip:
Know which keywords define you best, and gives you the best exposure.
Add a brief but concise description for search engines adding these keywords.
Optimize all images on your website.
Share your profile with the world.
Allow for people to give you feedback, it helps improve even more your online reputation.
You not only collect customer reviews on your review profile, but also present your service and yourself or your company. In addition to the customers you've invited to rate you, potential new customers, who have become aware of you, for example, through a search query on Google or on social networks such as Facebook will also visit your profile. That is why it is important to fill out your ProvenExpert profile completely, update all the information regularly and make sure you leave a reputable impression.

But a well maintained profile is not only important to inform potential new customers extensively about your services and contact options. Profile maintenance is also essential for the optimal promotion of your offers in search engines. With little effort, you can optimize the information on your profile so that you reach more potential customers and are found better on the Internet. Following are five tips to help you get the most out of your ProvenExpert profile with little effort.
1. Search engine optimization using descriptions
The description of your user profile introduces your company or service. The key is to keep it short and include all the important information. This short text also needs to be written in a way that makes your profile easier to find on the web and optimizes it for search engines.

Tip: Use keywords. Base your keywords on the search queries (questions, problems, keywords) under which your offer is to be found on Google, Bing & Co. In addition to the keywords, the quality of the content is also a factor for better ranking. This is because search engines classify web pages whose text content is unique as "more valuable". Consequently, these pages are listed higher in the search engine results because the reader receives new information there. Avoid duplicate content: Rather than copying the self-description from your website one-to-one, rearrange sentences, change individual words or write a new text.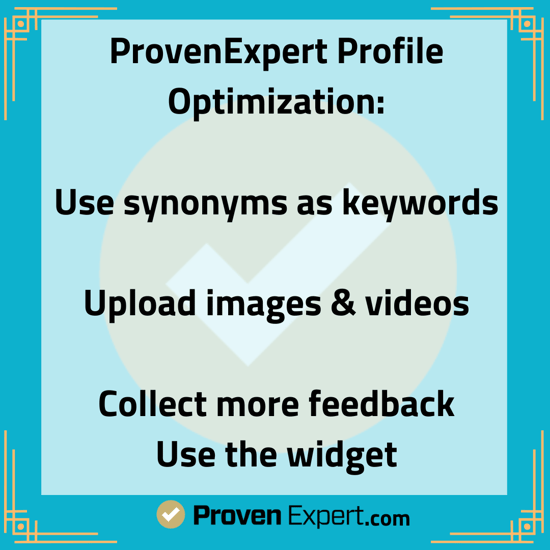 2. Image optimization using the crop function
The image of your ProvenExpert profile is the visual flagship of your service or company. Your company logo or user image should be easily recognizable. Pixelated images look untrustworthy and do not leave a good impression.

Tip: In order to properly embed your image on your profile, use the crop function. This allows you to select a part of the image, enlarge it and set it up as a profile picture. To do this, move your mouse over your user picture and then click on the pencil icon at the top left. Drag the image rectangle to the desired position and size. To ensure that your image is displayed optimally when you zoom in, it should have a resolution of at least one megapixel.
3. Feedback optimization using different surveys
At ProvenExpert you have the possibility to create multiple surveys with different categories and content. This way you can collect qualified feedback on specific services, events or similar. Surveys can be adapted to a wide range of professional circumstances, and can also be used for specific projects. Tip: On the Survey page, you have the option of creating a new survey. The default setting enables all question categories in the survey. To determine what should be asked and what should not, click on the blue checkboxes. If a gray box appears, either entire question categories or individual quality criteria are disabled.
4. Collecting customer feedback via social networks
When it comes to collecting customer feedback, many limits themselves to traditional email invitations. But wherever you are active on the Internet, your profile and surveys can be referred to. Social networks are particularly suitable for this: by posting customer reviews on social media, you reach more than just your own network.
As soon as someone interacts with your post, this interaction also becomes visible to their followers or friends. Tip: For example, you can share particularly positive ratings or feedback from your regular customers on social networks. To share individual reviews, click on the respective social media button in the text field of the review. It is also possible to share your entire profile, and consequently your overall rating and recommendation score, with your network.
Click on the blue "Share Button" on the left side of the browser window to share your profile on different platforms. Especially for Facebook, there is also a survey app that can be embedded on the Facebook page. You can find detailed instructions here.
5. Integrate rating seals and widgets on subpages
Focusing on your overall rating, the rating seal is a mirror of your customers' satisfaction. Integrated on your homepage, interested customers immediately see how much your offer and service is appreciated. However, when embedding the seal on the homepage, the subpages are often overlooked: It is not uncommon for an interested customer to first arrive at your contact or product page during a search query, instead of the home page.

Tip: Utilize the positive feedback of your customers to create trust in your services and offers - integrate your rating seal not only on the homepage, but also on the subpages. The new responsive rating widget extends across the entire content page. The widget is a kind of "mini-profile" that can display additional profile information, such as your top skills or up to ten different customer testimonials, as desired.

Which tips were particularly helpful for you?
Do you have any other tips? Leave us a comment below!