How to increase positive feedback from happy customers: 5 tips.
Published: April 13, 2018 | Last updated: June 28, 2022
Create effective feedback invitations to send to your happy customers.
To get as many positive responses as possible, we have compiled five tips in this blog that you can use to effectively create the invitations to send to your customers. ProvenExpert offers a variety of options that enable you to acquire ratings: via email, by inviting customers to take a survey, by publishing surveys, by verbal invitation or with survey cards & QR Code.
Unfortunately, sometimes feedback or reviews are negative. If you'd like to learn the best way to respond to bad reviews, check out this article.
1. Sending to several recipients
You can easily reach one or more recipients by entering them manually in the input mask. If the list of recipients is longer, though, this can be tiresome. This is why the email invitation mask offers you a clear advantage: you can use the address book icon to upload an entire address list in CSV format. When doing so, the names that you entered manually are automatically pulled from the CSV file.

By the way, CSV means "comma-separated values", i.e. individual values separated by a comma - this doesn't need to be taken literally for your purposes. To upload successfully, your CSV file must match the structure shown in the screenshot, whereas the columns First Name and Last Name can also be combined into a single column. You can find instructions on how to create a CSV file here.

2. Using customizable functions
A drop-down menu for both the address as well as the subject line offers you the ability to use several different pre-set options or to enter your own version. We highly recommend the free text field here, because this shows that you are taking the time to address each of your customers individually.

Note: Make sure to address each addressee appropriately. So, we recommend to either choose a gender neutral addressing option for long lists of recipients, or to include the female and male addressees in this distribution list one by one and then send out your message.
- The invitation text can also be modified. Feel free to use the preset text modules and adjust them to fit your needs.
3. Publishing a survey
Surveys can reach those customers from whom you can no longer request feedback directly, because they utilized your services before you started using ProvenExpert. Therefore, to increase feedback even more, the option of publishing surveys is a huge advantage.
By publishing your survey(s), anyone who is using your communication channels in the future will take notice of your survey. Specifically, this can be done in four ways:
With the privacy settings in your profile "Profile visitors can rate me", a "Rate now" button appears on your profile
By linking to your own website or to a partner's website
By inviting your social media contacts
By installing the Facebook Widget on your Facebook page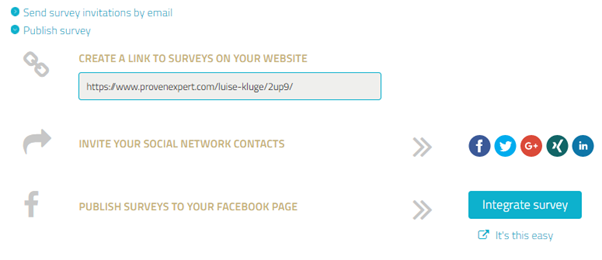 4. Verbal Invitation
Of course, you can also use word-of-mouth advertising and ask for ratings. To do so, just give the person you're talking to the relevant access code for your survey. Your customer can then go to expertenbewertung.de and enter the code to your survey.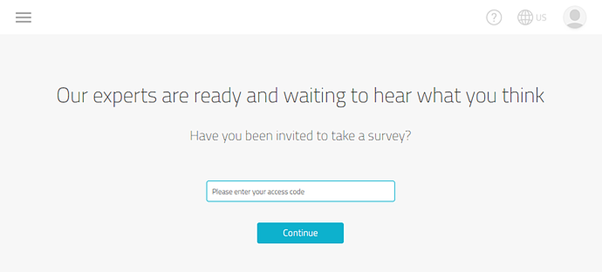 5. Survey Cards & QR Code
Survey cards (as a PDF or JPG) and a QR code are generated automatically for each survey you create that you can then print yourself or have printed by a printing company. They include a link that directs your customers to the survey. You can use the QR (quick response) code for other marketing materials, such as flyers, as well. This allows you to reach even more customers, receive even more ratings and thus create even more transparency for potential customers.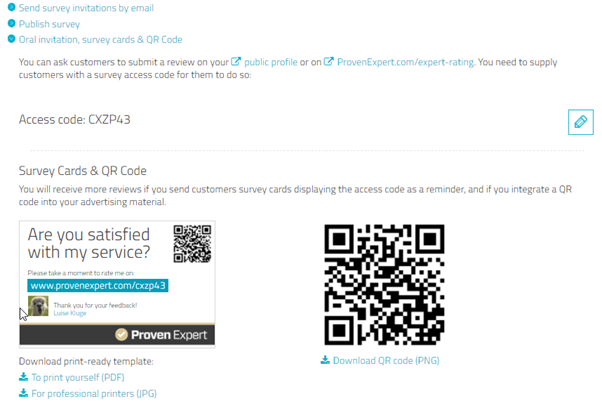 Summary
Creating effective feedback invitations to send to your customers is a sure way to increase the amount of positive feedback from them. To get as many responses as possible:
Use the address book icon to upload an entire address list in CSV format rather than doing so manually (time consuming)
Take the time to customise your questions
Publish surveys to reach those customers from whom you can no longer request feedback
Use word-of-mouth advertising and ask customers to give feedback
Print survey cards and QR codes and give them to customers
Want to take control over your reputation? Manage your reviews with ease on ProvenExpert now.