Review Aggregation: Display Reviews Coming From Different Platforms In One Personal Profile: 5 Benefits
Published: July 30, 2018 | Last updated: June 28, 2022
Advantages overview: 1. Easily keep track of all your latest reviews 2. Display the most accurate individual review rating for your business (averaged..
Have you already been reviewed on Facebook, Google, Yelp or other evaluation platforms, or want to provide additional options for customers to rate you? ProvenExpert.com lets you aggregate reviews from over 350 sources into a single profile and seal. In this blog, we'll show you the advantages of aggregating your reviews.
1. Keep track of all your latest reviews
When it comes to keeping track of all your reviews on various platforms, the more platforms you use, the more difficult it is. ProvenExpert lets you aggregate these ratings platforms to your profile so you can keep an eye on your feedback at all times. The various seller ratings and rating stars from various platforms are all factored in to your overall rating. This value is then displayed on your rating seal, making your reputation clear at a glance for potential customers.
2. Multiple review platforms, yet one individual rating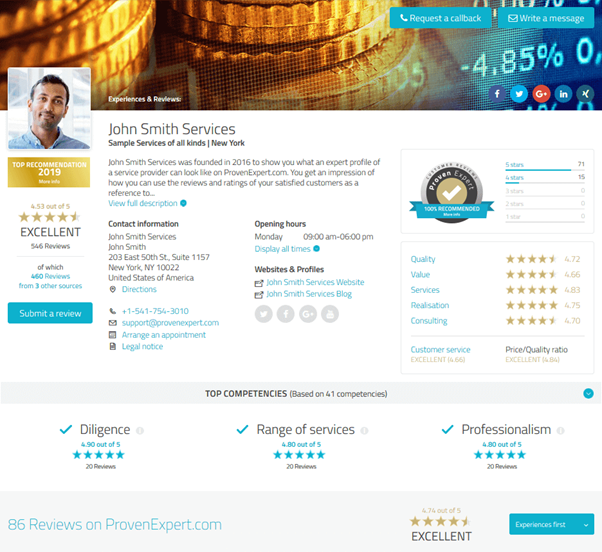 Reviews that you have actively collected also contribute to your ProvenExpert profile and overall rating seal and are worth gold. This provides customers with the most accurate rating of your company, instilling a level of trust not possible coming from an opinion based off an individual review platform. This is just one of the multiple benefits having a ProvenExpert profile. Feel Free to see what else we can offer to drive revenue, customer conversions, and Google rankings
Tip:
The key to success for a top rating score is to simply collect more reviews and ratings. Feedback from your satisfied customers gives you control over your online reputation. In addition, studies have shown that actively collecting customer feedback results in 20 percent more positive brand resonance. You can use positive feedback to counter negative reviews and thus improve your overall score.
3. Respond to reviews quicker
When you integrate reviews from other sources, you no longer need to keep checking each individual ratings platform for newly submitted feedback, because it's all already clearly listed on your ProvenExpert profile.
Simply have ProvenExpert notify you of new reviews and ratings; check a box and you'll immediately receive an email notification when your customers leave feedback, regardless of ratings platform. This enables you to react to new feedback directly and keep up-to-date with what's being said about your business online -remaining professional and competent in the public eye.
4. Functions as an advertisement for excellent service.
A well-maintained review profile functions as an advertisement for excellent service and will awaken the interest of both existing and new customers. Your overall rating is visible to customers, but they can also see where each review comes from, along with individual ratings. Clicking on any source, e.g. a ratings platform, will display all reviews in detail on the platform – making your business transparent and indicating how important customer focus is to you.
5. Improve your SEO ranking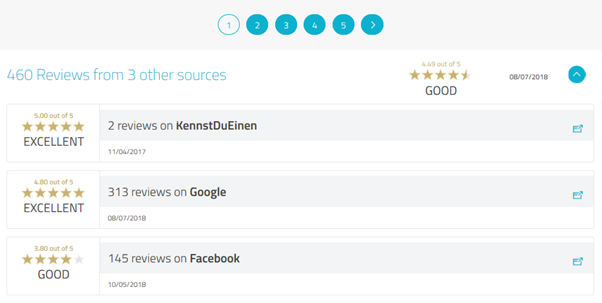 Also, in terms of search engine optimization, you already profit from ProvenExpert brand reach. When you integrate other sources, you'll be giving your personal profile a further push. Search engines such as Google check each available website for content-rich information relating to an individual search query. Each new review – regardless of the integrated platform where it has been left – benefits your ranking, because it yields new information content. A combination of reviews directly collected via ProvenExpert and reviews from other platforms is the best possible solution. Want to know more about SEO and how you can land your business higher up in the search rankings? Check out the first part of our SEO crash course here.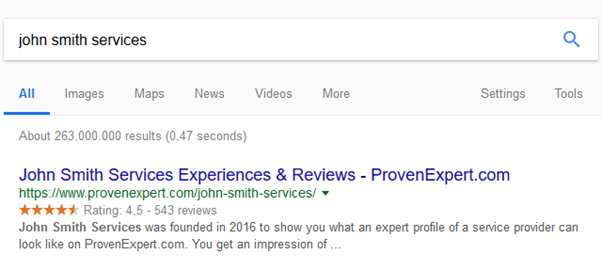 Summary
There are many advantages of aggregating your reviews into one personal profile. The tops 5 benefits are:
Ease of keeping track of all your reviews coming from various platforms
The ability to aggregate all reviews from different platforms into one, accurate review rating (review aggregation)
The ability to respond to feedback promptly, without having to login into multiple platforms (often cause delay in responding)
Functions as an advertisement for excellent service and will awaken the interest of both existing and new customers.
Improving your search engine ranking
Want to profit from your customers' genuine feedback? Sign up to join ProvenExpert today for free.
Want to take control over your reputation? Manage your reviews with ease on ProvenExpert now.